Spider-Man 3
(2007)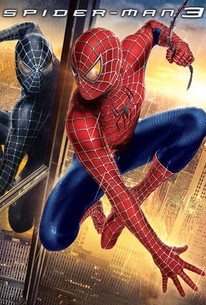 TOMATOMETER
AUDIENCE SCORE
Critic Consensus: Though there are more characters and plotlines, and the action sequences still dazzle, Spider-Man 3 nonetheless isn't quite as refined as the first two.
Movie Info
Your friendly neighborhood web-slinger is back, only this time his sunny outlook has become partially overcast in the third chapter of director Sam Raimi's Spider-Man saga. Tobey Maguire, Kirsten Dunst, and James Franco return to reprise their roles from the previous two installments, with Thomas Haden Church, Topher Grace, and Bryce Dallas Howard making their first appearances in the series as Flint Marko (aka Sandman), Eddie Brock (aka Venom), and Gwen Stacy, respectively. Peter Parker (Maguire) has finally leaned to walk the middle ground between being the superhero that his city needs and the man that Mary Jane (Dunst) loves. All is well in New York City until one night, as Peter and M.J. sit gazing at the stars, a falling comet streams across the sky and crashes into the ground close by. But this isn't any ordinary shooting star, and upon impact the mysterious space rock is split open to reveal a shape-shifting symbiote with the power to overtake anything that it comes into contact with. Later, as Harry Osborn (James Franco) acquires his late father's flying board, engineers a powerful new Goblin outfit, and takes to the sky to avenge dad's death, the mysterious space sludge infects both Peter's Spider-Man suit and ambitious street photographer Eddie Brock (Grace). Peter's strange new suit gives him a newfound sense of power as it gradually overpowers his personality, and he discovers that escaped convict Flint Marko was in fact the man responsible for the death of Uncle Ben (Cliff Robertson). Unfortunately for Peter, Marko has recently acquired the power to morph at will and quickly completes his transformation into the dreaded Sandman. As the Sandman gives in to his darkest criminal instincts and the slithering space symbiote transforms Eddie Brock into the nightmarish fanged villain known as Venom, the citizens of New York City must once again call on Spider-Man to fend off destructive forces that are far too powerful for the likes of mortal man. ~ Jason Buchanan, Rovi
Critic Reviews for Spider-Man 3
Audience Reviews for Spider-Man 3
as i said with gremlins 2 the new batch definitely one of the best movie sequels. The plot is great, how the alien symbiote takes over peters mind and that it corrupts him. The other thing i love about the movie is Venom, Him being one of my favorite villains he was a perfect villain for this movie. though he was added at the last minute it doesn't show at all. Sam Ramie was at the top of his game when he did this movie. I also enjoy the revenge story about peter trying to kill sandman for killing his uncle, and Harry Osborne trying to kill peter for killing his father. And the ending is one of those few movies to make me cry. When The sandman says he didn't mean to kill his uncle and just how he says "And then i saw my partner running over with the cash, and the gun was in my hand" and when that tear rolls down uncle bens face it makes me burst with tears. And the action scenes in the movie were right on and amazing to watch the fight with harry at the beginning and when hes at his mansion, the fight with sandman, and the sand collosus and venom versus peter and harry. Theres a rule i go by with movies the more villains there are in a film the better it is to me star wars revenge of the sith, gremlins and gremlins 2, spiderman 3, shrek 4, pokemon 2000, x-men origins wolverine, x-men last stand, shrek 2, cats don't dance, quest for camelot, transformers you get my point. Villains are always the best characters in films Megatron, ruber, general grievous, venom, brain gremlin, and deadpool, darth sidious, skeleton king, darth vader, count dooku, jabba the hutt, there are many more in my opinion but i can't name all.
Michael Edwards
Super Reviewer
½
So I think the main number one big ginormous flaw in this movie is the fact they use too many villains and plots, I'm sure we can all agree on this. Way back in 1992 a certain young Mr Tim Burton had free reign to create the sequel for his smash hit 'Batman'. In doing so he stuck in two main villains alongside his own creation...The Penguin, Catwoman and Max Shreck. This seemed to start a massive trend that has continued to this day! Following on from this initial idea many or most superhero flicks seem to have at least two villains as standard, sometimes more! and this is where this film implodes. First villain is Venom, now this alien creature crashes to Earth in or on meteorite out of nowhere and that's it, we get nothing more on it at all. No idea where its come from, how, why, what its intentions are, why its doing what its doing etc...its just there and you gotta accept it. Whether or not the comics give us this information I don't know (although I'm sure they do), but here in this film its a solid mystery for anyone who isn't a comic fanboy, myself included. So back story and the way this character is played out in the film is new to me, I have no idea if its correct alongside the source material, all I know is how this thing looks and it did seem well created to me. The CGI was decent and seemed to capture Venom's appearance well although why it would alter Spider-Man's spider logo seems daft, it infects his outfit and body, why would it alter the logo? Second villain was the Sandman who I know was bumped up from a minor comic position to a major role revolving around Parker's uncle. Now again whether or not this was the right way to go if you're a fanboy I don't know, as for the rest of us I felt the story arc did work pretty well and developed the Sandman into something other than just a common baddie. This character now had a good solid family arc combined with an emotional connection to Parker which did feel a little forced admittedly, like a clear after thought, but it managed to hold together. I also liked the visual design for this guy, he had a distinctly old fashioned feel about him, like a criminal from the 40's. The characters musical theme really pushed that vibe if you ask me, a very Bogart-esque tune. I liked his outfit too, again it had a very old fashioned look about it, like something Gene Kelly would wear. The final villain squeezed into the film was Harry Osborn as the next Green Goblin, following on from his fathers work. Now I had no problem with this character being here because he's been here since the beginning and it felt right that this story arc should happen. Unfortunately along with the other two villains it all felt so convoluted and tight for space that the poor old Goblin was reduced to sporadic appearances. Well they all were really, Venom especially so, that thing vanished for half the flick. The Goblin gets conveniently injured right at the start, after a horrendously bad CGI battle in the sky with Spidey, and we don't see him again for ages. Its the same spiel as before with this character, just replace Dafoe with Franco, same action sequences, new outfit that's all (looks worse too). So in that sense it seemed weak but you knew he had to be there, if anything they should of dropped Venom as that really seemed crowbarred in, jostling for any kind of screen time. The other problem I had with this film other than the multitude of villains was the relationship between Parker and Mary Jane. Oh my balls this got annoying, first they're together, then they're not, then they get back together again, then Mary Jane sluts around with Osborn, then Parker again, plus you've got Gwen Stacy in there too...holy ribbons of snot!! I got so fed up of seeing Parker and Mary Jane fighting whining and crying Jesus. Plus the fact Mary Jane gets fired from her stage show after one performance seemed a bit ridiculous and is obviously done to crank up the annoying emotional relationship issues. Then you've got all that crap where Parker goes to the dark side due to the Venom alien. Parker as a dark character apparently translates to a lame looking emo hairstyle, a bit of goth eye shadow and then acting like 'The Mask' in a nightclub, what an embarrassing mess that was! I must admit to being disappointed with the effects this time also, is it me or do the effects actually get worse after the first film? Seeing Spidey swinging from rooftop to rooftop is still sweet, Venom was cool and the Sandman had some great effects in places but the action sequences became very hard to follow with fast moving terrible looking CGI. As I already said the initial fight between Osborn and Spidey was awful looking, but the big finale was just a shambles of shoddy CGI and greenscreen, a lot of it looked very obvious to me. Also not so sure why or how the Sandman is able to grow to such massive proportions or fly, how does sand enable that?? and he kinda looked like a big lump of poo. I honestly think this is the most over stuffed flick I've seen for some time (or ever), it really is so overloaded and overly long. Stands to reason this effects the film negatively which is a shame seeing as this franchise hasn't been too bad. The best bit in this film for me was probably the amusing cameo from Bruce Campbell (again!) doing his best snappy snooty French maitre d'. Seems incredible to say that I know but it was a fun little scene, everything else was a mess frankly...apart from the odd visual moment. There are huge periods where characters disappear from the film entirely so other sub plots can continue (Sandman and Venom), Osborn and Parker end up fighting over Mary Jane instead of Osborn's dead father, Osborn's butler is a horrible Alfred rip off, the guy acting in the role is dreadful plus he only now in this film tells Harry about how his father was really killed!! And lastly even though the Sandman's story arc worked OK and has a good heart it did feel like they were trying to rewrite the original film. So definitely ambitious and not a total complete disaster but clearly one bad guy would have worked out better, we now all know Venom was only stuck in there to maximise the audience due to the characters popularity. I understand that but really they should have known better...well I say that but this is Hollywood,
Phil Hubbs
Super Reviewer
½
Harry loses his memory after attacking Peter and their friendship is seemingly restored leaving him free to hunt down the man truly responsible for Uncle Ben's death. However things are complicated by his transformation into The Sandman and the appearance of an alien creature that enhances Peter's negative emotions. There's actually a pretty decent sequel hidden inside the bloated, episodic mess that is Spider-man 3. Sam Raimi's presence at the helm is marred by his inability to resist the keys to the SFX toy shop but the cast are still likable, the comic relief (and JK Simmons in particular) is still funny and there's plenty of pacey action to maintain the attention. The big problem is with the script which relies far too much on contrivance and totally implausible coincidence. The most frustrating thing is that it could so easily have been corrected by the complete removal of the utterly ham-fisted and largely irrelevant Venom sub-plot. All the weakest elements of the film are tied up in it from Topher Grace's terrible performance, to the impossible to believe coincidences, to the frankly embarrassing jazz dancing emo Parker sequence. It's a shame because this wrecks the second half of the film and just detracts from some pretty decent character moments from Peter, Harry and even The Sandman himself. Yet another abject lesson that in film making, more often can mean less.
Spider-Man 3 Quotes
| | |
| --- | --- |
| Joseph "Robbie" Robertson: | Black-suit Spider-Man! Peter, these are incredible! We gotta have these, Jonah. |
| J. Jonah Jameson: | I'll pay you the usual rate. |
| Peter Parker/Spider-Man: | If you want the shots, I'll take the staff job. Double the money. |
| | |
| --- | --- |
| Mr. Ditkovitch: | Give me rent. |
| Peter Parker/Spider-Man: | You'll get your rent when you fix this damn door! |
| | |
| --- | --- |
| Harry Osborn: | How do you like that, Spidey? |
| | |
| --- | --- |
| Peter Parker/Spider-Man: | Stings, doesn't it? |
| Harry Osborn/New Goblin: | I protected you in high school, and now I'm gonna kick your little ass! |