The Spiderwick Chronicles
(2008)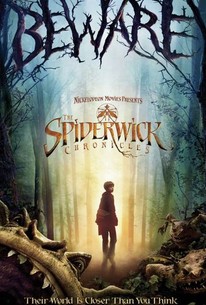 The Spiderwick Chronicles Videos
The Spiderwick Chronicles Photos
Movie Info
Peculiar things start to happen the moment the Grace family (Jared, his twin brother Simon, sister Mallory and their mom) leave New York and move into the secluded old house owned by their great, great uncle Arthur Spiderwick. Unable to explain the strange disappearances and accidents that seem to be happening on a daily basis, the family blames Jared. When he, Simon and Mallory investigate what's really going on, they uncover the fantastic truth of the Spiderwick estate and the creatures that inhabit it.
Critic Reviews for The Spiderwick Chronicles
Audience Reviews for The Spiderwick Chronicles
½
This was one of the most imaginative films ide ever seen and it still is fantastic to watch even 3 years after its release and ill have to admit it, i did cry at the end of the movie
Michael Edwards
Super Reviewer
½
Not bad, it really was fun actually. This isn't something amazing and a lot of people will forget about it, but it is a really good adaption and sure deserves some recognition.
Jim Careter
Super Reviewer
½
Mark Waters delivers a high caliber fantasy adventure with The Spiderwick Chronicles.
At roughly 90 minutes, this picture makes the most of it by successfully setting up characters quite swiftly, yet successfully. More than half of the film also takes place at a single house and it's surrounding yard, but that is hardly a flaw because the story is entertaining enough to keep the setting from becoming stale.
The CG is great, although not the best, and once the fantasy characters show up, they are there to stay for the duration of the picture. There isn't an abundance in the variety of the creatures, but that is hardly a flaw, since the characters that do exist are more than enough to fill this movie.
The acting is a plus and the younger cast members are the ones to carry the film. Freddie Highmore gets the chance to play a set of twin brothers while Sarah Bolger plays the sister. It's also hard to argue when the supporting cast contains Mary-Louise Parker and the voices of Nick Nolte, Martin Short, and Seth Rogen.
The Spiderwick Chronicles has a solid story and it becomes a fantasy film for all ages. It is high on the recommend list.
The Spiderwick Chronicles Quotes
| | |
| --- | --- |
| Hogsqueal: | Fly as you want. Griffin! I swallowed an ogre whole. You could be next! |
| Hogsqueal: | Fly as you want. Griffin! I swallowed an ogre whole. You could be next! |