Spies Like Us
(1985)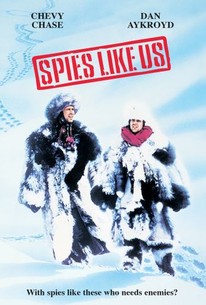 Movie Info
Director John Landis helmed this Cold War farce starring Dan Aykroyd and Chevy Chase as Austin Millbarge and Emmett Fitz-Hume -- two loser misfits who dwell in the lower ranks of the Central Intelligence Agency. Convinced despite much evidence to the contrary that they're prime secret agent material, both men keep taking service exams in an effort to win promotion. Caught cheating on their latest round of tests, Austin and Emmett expect to be fired but are instead made full field agents and ushered into intense training. Little do they know that it's all a ruse and that they're about to be dumped in Pakistan to throw Russian spies off the scent of two real agents with an important clandestine assignment. A spoof of the "road" pictures popularized by Bing Crosby and Bob Hope, the film features a cameo by the latter as his golf-playing self.
Critic Reviews for Spies Like Us
Audience Reviews for Spies Like Us
½
There was a time when certain movies could be rolled out into the cinemas solely depending on a handful of [i]Saturday Night Live[/i] performers. These movies didn't necessarily have to be overly interesting, the plot could be thin on the ground, and the characters could be one dimensional. All that was needed was to see these guys doing their thing, their shtick. The studios knew that was enough to generate ticket sales. In this comic caper Dan Aykroyd and Chevy Chase play somewhat mis-matched, yet strangely well matched, low key government workers that both undertake a foreign service exam to better themselves. After being caught cheating in a highly embarrassing display of lunacy, the pair are amazingly promoted to foreign service operatives. Turns out that some underhanded DIA folk need decoy agents to protect their real agents out in the field (the field being Soviet Asia). So in thinking they have a real mission to carry out, the bumbling duo are dropped behind enemy lines to basically lead the Soviets on a wild goose chase. So the plot revolves around the old enemy, the dastardly USSR, arch nemesis to the good old US of A. Going into Russian territory, arming an intercontinental ballistic missile, launching it and then testing a missile defence system. What could possibly go wrong? Turns out the predictable does in fact happen but luckily our inept heroes save the day. Does anything happen much in between this? Well not really truth be told, the entire movie is very much stringed together with a series of skits, or so it seems. This isn't a bad thing but just don't go expecting anything amazing plot wise that's all, this is a bare bones tale. So lets look at our heroes. Dan Aykroyd is Austin Millbarge (great name), a very clever and innovative codebreaker who works at the Pentagon. Bottom line this is the type of character you've come to expect from Aykroyd because its clearly his own persona. He's clearly very smart, a fast thinker and fast talker who can reel off large chunks of dialog in a robotic fashion. Likewise Chevy Chase plays Emmett Fitz-Hume, an easy going, loveable rogue who's a bit of a coward, a bit slow at times and a ladies man. Now I wouldn't say Chase is all this in reality but he certainly comes across like an easy going, loveable rogue and ladies man. Overall both characters show promise but also display remarkable ineptitude. I love both characters introductions, Millbarge working in this rather curious factory-like part of the Pentagon surrounded by his work. To look at he comes across as nothing more than a messy, going nowhere, slob. But we quickly learn this guy is a technical whizkid. On the other hand we find Fitz-Hume lounging at his desk, headphones on, watching a movie. When asked about his upcoming exam he merely brushes it off as a forgone conclusion. When we get to the actual exam we are offered the first glimpses of how fecking hilarious this movie will be. Aykroyd and Chase work off each other flawlessly in this sequence, its fantastic. I adore how Fitz-Hume has all these little compartments where he's hiding answers (an eyepatch and arm cast). 'What does K.G.B. stand for?' is written on a bit of paper he slips to Millbarge. Then when he eventually play acts a nervous breakdown merely to grab other people's answer sheets, gloriously cheesy Chase. The next classic segment would be the training montage where both men are put through their paces double time. Apart from how adorably dated everything looks this is also an opportunity for some quick visual gags. The obligatory obstacle course, being shot at above and below water, radical vertical impact simulation, high-G training in a centrifuge, staying afloat, extreme heat tests etc...Customary military training type stuff. What is kinda amusing is the way they both got to the training facility. Thrown out of a plane (with parachute), only to both land in the exact same spot which just happens to be the training grounds. The movie does move fast and before you know it we are in the deserts of Pakistan for more hijinks. Naturally the duo get captured by the locals but are saved by two other westerners who conveniently turn out to be the real DIA agents. Of course one of them is a hot blonde (Donna Dixon) so you know what comes next with Chase's character. The duo end up impersonating doctors for the most part at this stage and its a hoot. A very amusing operation sequence, some sexual innuendo, topped off with a small chase sequence and its off to Russia by camel. This is where the movie does start to falter somewhat, it slows right down and loses its comedic impetus. This is probably because the plot has to focus more on the whole missile launching angle from the military types in their US bunker. It does seem pretty reckless doesn't it, sending agents into the USSR to launch one of their ballistic missiles only to test your own missile defence system. And the fact that this missile is targeted at the USA! Why not just launch one of your own missiles which isn't pointed at your own country? Any way its very dumb and does kinda spoil the whole ham-fisted spies side of things. This is where many of the plot holes become more apparent also. At the end the US Army Rangers eventually burst into the rogue bunker, but how did they know where it was? Plus how did these DIA folk manage to pull of such a feat as this without anyone finding out?? They knew there was a risk of global thermonuclear war if their missile defence system missed its target...but they went ahead anyway?? All to preserve the 'American way of life'?! Surely there wouldn't be much life left after a nuclear war, and all the military personnel in this bunker agreed to this?? The ending is also rather poor and a letdown. After all the missile has been safely sent off into space via Millbarge's technical reprogramming and the DIA bunker stormed, we later find Millbarge and Fitz-Hume now promoted as nuclear disarmament negotiators. But the weird thing is, the Russian soldiers they fought off to launch the missile back in Russia, are somehow representing the USSR in these talks? So...were the Russians promoted too? If so...why would they have been promoted? Or were they originally nuclear negotiators? Also they all seem to be playing some kind of [i]Risk[/i] board game to negotiate? Like...huh??!! Apparently this was a reshot happy ending, clearly the wrong choice methinks. The location work is terrific it has to be said. Apparently they filmed in Morocco and Norway for Pakistan and Russia but in all honesty it all looks authentic enough to me. This movie is surprisingly good looking considering what it is. With that in mind, even though you might think this was a run-of-the-mill comedy top heavy with slapstick (which it is), its also quite a clever little movie. Director John Landis has injected some nice wit into the proceedings along with nice visuals, nice effects (for the time) and a whole host of cameos that you might not even realise on a first viewing. Aykroyd and Chase are also on winning form with some cracking quick-fire one-liners that can't fail to make you smile. This isn't a perfect comedy and its not a thrilling adventure, but it has a good energy to it. If anyone is looking for the epitome of a classic 80's screwball comedy, you can't go wrong here.
Phil Hubbs
Super Reviewer
½
Taking inspiration from the Hope & Crosby "Road to" movies (which explains Hope's cameo...his final film appearance), this is the story of two inexperienced desk jockeys who are suckered in to going undercover on a mission in Soviet Territory, unaware that they are really just expendable, and are being used as decoys. What ensues is a madcap romp through all sorts of exotic places as the two decoys go through one nutty incident after another. Given the concept and the people involved (just look at all those cameos!) I had some very high hopes for this being good. I'm rather upset to report that the film comes up short and isn't as good as it should have been. Oh yeah, I mean, the cast is good, but a lot of the cameos (a John Landis trademark) just feel pointless and silly. However, it is fun trying to spot them all, including Sam Raimi, Joel Coen, Martin Brest, Terry Gilliam, Ray Harryhausen, and even blues legend B.B. King. Still though, less focus on cameos, and more on a stronger story. I did like seeing Chase and Aykroyd together again, and Bernie Casey's supporting role made me happy, too. The film is funny, but it's not nearly as funny as it thinks it is. I'm okay with silly humor, but many of the gags go on for too long and after a while you realize that there's really no plot or story (as if there was supposed to be), and you get the feeling that Landis was just banking on the jokes and the actors to carry things along. I wasn't bored though, and I did laugh, but since this is a Landis film, I was expecting something sharp, witty, and brilliant. I don't regret watching this, but I do wish it would have been better .See it if you want, but don't expect it to be great (like it should have been).
Chris Weber
Super Reviewer
½
Funny in some part, until the picture show that the script is not so good or funniest.
Lucas Martins
Super Reviewer
Spies Like Us Quotes
| | |
| --- | --- |
| Rob Hodges: | Every minute you don't tell us why you are here, I cut off a finger. |
| Emmett Fitz-Hume: | Mine or yours? |
| Rob Hodges: | Yours. |
| Emmett Fitz-Hume: | Damn! |