Spirit - Stallion of the Cimarron
(2002)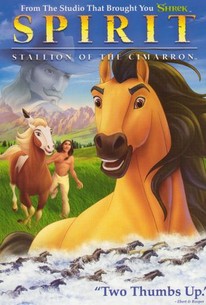 TOMATOMETER
AUDIENCE SCORE
Critic Consensus: A visually stunning film that may be too predictable and politically correct for adults, but should serve children well.
Spirit - Stallion of the Cimarron Photos
Movie Info
Screenwriter John Fusco returns to the Western themes of his previous films Young Guns and Thunderheart with this animated children's adventure from Dreamworks. Matt Damon supplies the voice of Spirit, a wild Mustang stallion living free in the Old West of the late 19th century, where he's captured by human horse traders and sold to a cavalry regiment at a frontier outpost. There, a cruel colonel (voice of James Cromwell) nearly succeeds in breaking the willful horse, but not quite. Spirit escapes in the company of another captive, Little Creek (voice of Daniel Studi), a Native American youth that tries to possess the magnificent animal by more humane means, but Spirit refuses to bend to human will even when he makes the acquaintance of Little Creek's beautiful and fiercely loyal mare, Rain. After he saves Little Creek's life in an Army raid, Spirit believes that the gravely injured Rain has perished after a tumble over a waterfall. Despondent, the horse is captured again by humans, enslaved this time for work in a pack team on the transcontinental railroad. Undaunted by the tragedies that befall him, Spirit manages to escape for a reunion with Little Creek, Rain, and his long-lost brethren. Featuring songs by rock singer Bryan Adams, Spirit: Stallion of the Cimarron departs from other examples of its genre in that the horse protagonists do not speak or sing; only Spirit's voice is heard as voice-over narration.
Critic Reviews for Spirit - Stallion of the Cimarron
Audience Reviews for Spirit - Stallion of the Cimarron
½
I really feel this film was lost potential. what I mean by that is that this film has one extremely fatal fault. It's the fact that the main character has a narration but doesn't talk. Now I like it that this film has a non-talking animal for once, but what is the point of giving him a narrative then if he isn't gonna talk? you already have him convey emotions well without dialogue with his facial expressions. But even then, they humanize the horse way too much, to the point that it just becomes distracting and I would've wanted him to talk. I feel that might've been what they originally had planned but scrapped it for some reason. Also the film is really also not all that interesting, the neighing gets old REALLY fast, and it's not very engaging. Many characters aren't interesting, and the music sounds far too, well, 80s sounding that it just feels off for this kind of film. The only thing I really like about the film is the villain played by James Cromwell, who plays a great bastard but actually has his limits, and I do like how the villain isn't killed off, in fact the villain knows he's beat and gives up, which I don't see in a lot of films. Other than that, it's just a bore. It has too many distracting features, characters aren't interesting, and it isn't well paced at all. I think more kids would be bored with Spirit than find it really funny or engaging. While it isnt the worst Dreamworks has done, it's not their best.
Michael Edwards
Super Reviewer
[img]http://images.rottentomatoes.com/images/user/icons/icon14.gif[/img] I loved this movie when I first saw it and It would be great too see a sequel. It has some of the best, most well crafted animation techniques i've evr seen in an animated film. Its heartwarming and in it's dark moments it might even make you cry.
Directors Cat
Super Reviewer
½
It was okay. Not amazing, had me bored a ton. Story is good though. Grade: C-
Matt Goodman
Super Reviewer
Spirit - Stallion of the Cimarron Quotes
| | |
| --- | --- |
| Spirit: | For the first time in my life, I felt my heart torn two ways. |
| | |
| --- | --- |
| Little Creek: | I'm never going to ride you, am I? And no one ever should. You can go. It's okay, go. Go on, get out of here! Go home. |
| | |
| --- | --- |
| Little Creek: | Take care of her, Spirit who could not be broken. |
| | |
| --- | --- |
| Spirit: | (About finally be letting free by Little Creek) I had been waiting so long to run free, but that goodbye was harder than I ever imagined. I'll never forget that boy and how we won back our freedom together. |
| Spirit: | [about finally be letting free by Little Creek] I had been waiting so long to run free, but that goodbye was harder than I ever imagined. I'll never forget that boy and how we won back our freedom together. |