The Spitfire Grill
(1996)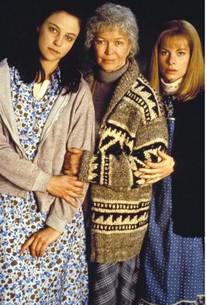 The Spitfire Grill Photos
Movie Info
With the help of her former warden, ex-con Percy Talbott moves to Gilead, Maine to make a fresh start. She gets a job waiting tables at the Spitfire Grill and rents a room above it. The cafe proprietor is the irritable Hannah Ferguson. Friendliness is not a word used to describe Gilead and the locals are suspicious of Percy. That she does not conceal her incarceration does not help them warm to her. This gentle drama tinged with joy and sadness centers on the relationships between Percy, the townsfolk and the Spitfire Grill. One day Hannah suffers a bad fall and is forced to bed to recover. To help her, shrewd local businessman Nahum Goddard, whose biggest concern is preserving the character of the town so as to attract renewed interest in an abandoned granite quarry, sends his introverted wife, Shelby to help Percy at the Grill. His ulterior motive is to have Shelby spy on her and report anything strange, but Shelby and Percy instead become good friends. Eventually, the three women decide to sell the restaurant by holding a national raffle/essay contest in which contestants send in $100 and an composition explaining why they want it.
Critic Reviews for The Spitfire Grill
Audience Reviews for The Spitfire Grill
½
Saw this years ago, remember thinking it was okay, but pretty predictable and overall nothing impressive considering actors like Ellen Burstyn and Marcia Gay Harden were in this film. Can't say I remember much of the movie, other than the fact that it's a character study about an ex-convict trying to start over. If you want a great movie with a similar plot and a much better ending, "Sling Blade" is your safer bet.
Dan Schultz
Super Reviewer
A beautiful movie. The characters are memorable. I wish they made movies like this more often.
Dannielle Albert
Super Reviewer
Leigh Ryan
Super Reviewer
The Spitfire Grill Quotes
There are no approved quotes yet for this movie.