Split
(2017)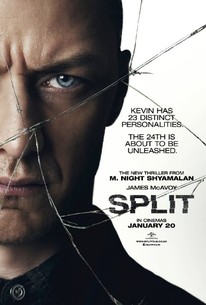 TOMATOMETER
AUDIENCE SCORE
Critic Consensus: Split serves as a dramatic tour de force for James McAvoy in multiple roles -- and finds writer-director M. Night Shyamalan returning resoundingly to thrilling form.
Movie Info
While the mental divisions of those with dissociative identity disorder have long fascinated and eluded science, it is believed that some can also manifest unique physical attributes for each personality, a cognitive and physiological prism within a single being. Though Kevin has evidenced 23 personalities to his trusted psychiatrist, Dr. Fletcher, there remains one still submerged who is set to materialize and dominate all the others. Compelled to abduct three teenage girls led by the willful, observant Casey, Kevin reaches a war for survival among all of those contained within him - as well as everyone around him - as the walls between his compartments shatter apart.
News & Interviews for Split
Audience Reviews for Split
This is mostly McAvoy's show, giving a stellar performance as a dozen split personalities, but the rest of the characters and actresses have their moments to shine too. Shyamalan has never been this sincere and focused, not even in his brilliant first few films. And then there is the final moment, starting with the musical reference, that connects this brutal, exciting and fascinating tour de force with a former hit. That's such a massive goosebump inducing moment, you're still shaking while the end credits are rolling.
½
Started off okay but wasn't worth sitting through.
Nicki Marie
Super Reviewer
½
When The Sixth Sense was released in 1999, it became an instant hit and has since entered popular culture. It's director, M. Night Shyamalan, became the hot property in Hollywood and much anticipation followed his projects. However, Shyamalan has never quite reached the same level of quality. In fact, some of his films were so poorly received that he became synonymous with mediocrity or, in some cases, inspired unintentional laughter. To be fair to him, though, his ideas were always great but he just wasn't able to deliver the finished product and his latest in Split suffers a similar fate. Plot: Three girls are kidnapped by a man and held captive in a locked room. The more they interact with their abductor, the more they realise that he assumes different personalities. Plotting their escape, they try to work out which of his personalities might actually help them while the threat of a more dominant and malevolent personality waits to surface. The problem that has seemingly plagued Shyamalan is that his twist ending of The Sixth Sense was such a rug puller that many audiences expected the same time and time again. No film has came close but Shyamalan has never wavered on trying to deliver them. His concepts actually operate on there being a catch so, in many ways, Shyamalan has consistently set himself up to fail. The ideas behind The Village, Lady in the Water and The Happening, for example, all had massive potential but they all ended absurdly. It's not my intention to offer spoilers here but what I will say is that Split actually ties into one of Shyamalan's earlier films. It's only at the end that you realise this and, by that, it leaves you feeling duped again with yet another ending that feels misplaced. That said, it will appeal fans to fans of Shyamalan's earlier work that have been waiting patiently for one of his particular stories to continue. As a psychological thriller, Split has many positives going for it. It's very well shot and achieves the requisite, claustrophobic atmosphere but it's not the direction or cinematography that's the biggest positive. It's actually James McAvoy. Charged with delivering numerous characters throughout his split personality, McAvoy shows great range. He's in danger of over-acting at times, but his ability to switch from one persona to another (to another) in quick succession is very impressive indeed. To be quite frank, without McAvoy's committed performance(s) this film simply wouldn't work. The problem he faces, though, is that he's not given much to work with. The script is actually very lazy and it's a wonder that he manages to make anything of it all. His commitment to the film actually demands more of a pay-off for him but sadly he's not quite provided it. McAvoy is the film's anchor with an absolutely meticulous display of personalities and had Shyamalan stuck to his guns and focused on the job at hand, he might have produced a solid psycho-thriller. However, it's his decision to tie this in to another genre that's feels like a cop-out. As impressive as it's delivered, it fell short for me. Mark Walker
Mark Walker
Super Reviewer
Split Quotes
There are no approved quotes yet for this movie.