Spread
(2009)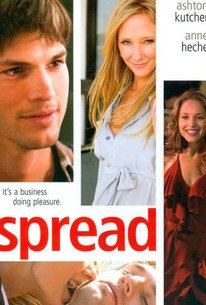 TOMATOMETER
AUDIENCE SCORE
Critic Consensus: Despite occasional detours into surprisingly dark territory, Spread overall is an ineffectual celebration of vacuous Los Angeles high life rather than a deconstruction of it.
Movie Info
A modern tale of morality, director David Mackenzie's stylish sex comedy centers on the exploits of a Los Angeles gigolo working his way to infamy one mattress at a time. Nicki (Ashton Kutcher) is the epitome of big-city sexuality. Terminally hip and always fashionable, he's a sexual grifter who operates by his own set of rules. But in Nicki's world of money, power, and fame, true stardom is fleeting. As Nicki climbs the ladder of conquest and begins focusing his attentions on an older, well-to-do client (Anne Heche), a strange thing happens -- he begins developing actual feelings for a pretty young waitress. Little does Nicki realize that he's about to fall victim to his own seductive game.
News & Interviews for Spread
Critic Reviews for Spread
Audience Reviews for Spread
½
Ashton Kutcher plays himself in a story about what Ashton Kutcher most likely did for a living before he got famous (and what he does all day for a living now that he's Demi Moore's professional kept boy). The main character is not empathetic (and you don't need to be a pretty boy to empathize with one, just write the pretty boy better) and his "journey" never feels significant. Cinematography and acting is decent (besides Ashton who I've already established is just playing himself) but there's nothing of substance here. Waste of time and just a fun "take a risk" project for Ashton. I suppose his fans will like it as he has many partially nude scenes.
_kelly .King
Super Reviewer
Ok. Ok. I went into this knowing full well that it was supposed to suck. I REALLY liked it, and noone would be more surprised about that than me. Maybe I just REALLY like Ashton? He sure is a hotty, thats a given. BUT...I think that I would still have liked it with any other good looking guy in it. Maybe. It could happen.
Cynthia S.
Super Reviewer
½
Can't say I am overly surprised that a lot of people didn't like this, but personally I found it not too bad. I would say this is Ashton Kutcher attempting a serious role, which obviously doesn't come across as all that convincing. Ashton is an actor who does comedy and fluff well. This is funny in a black way in places, but overall I think it is trying to be serious. The story follows Ashton as guy who basically pimps himself out to older women for somewhere nice to stay and to get clothes and things bought for him. Pretty much a whore, but I don't think he really sees himself that way - more a scammer. It's kind of hard to take too seriously when he is strutting around talking about how hot he is while actually looking kind of dorky in some... interesting... fashion choices. Anne Heche plays a women who gets involved with him and is hurt by him. I think it does have something to say, as her character, while attractive, is ageing and, feeling insecure, she does something pretty drastic to improve herself. She points out to Ashton that he is also ageing and he can't get by on a pretty face all his life. There is then another twist where he meets a young girl played by Margarita Levieva and falls in love with her. Then the movie is mostly about seeing if he will get her or if he can change his ways. The ending isn't something I would expect from an Ashton vehicle,but I guess it is valid considering the track record of his character. I could not highly recommend this as I don't think it will be for everyone, and other reviews here verify that, but it may pleasantly surprise some people. Maybe one to rent when you are getting out other stuff, just in case!
Nicki Marie
Super Reviewer
Spread Quotes
| | |
| --- | --- |
| Nicki: | I don't want to be arrogant here, but I'm an incredibly attractive man. I can't help it, I don't try to be, I just am. |
| | |
| --- | --- |
| Nicki: | When a girl tells you you're not getting any, before you ask, before you even try, you're getting some. |
| | |
| --- | --- |
| Nicki: | I don't want to be arrogant here, but I'm an incredibly attractive man. I can't help it, I don't try to be, I just am. |