Spring Breakdown
(2009)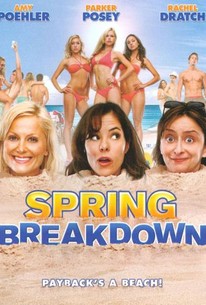 Movie Info
A trio of thirtysomething friends (Amy Poehler, Rachel Dratch, and Parker Posey) go vacationing at a popular spring break resort frequented by college coeds in order to prevent a politician's daughter from embarrassing her family. Larry Kennar and Rick Berg produce a script penned by director Ryan Shiraki in collaboration with star Dratch.
Critic Reviews for Spring Breakdown
Audience Reviews for Spring Breakdown
Quite honestly it is a pretty bad movie, but the actresses in this are all so funny I couldn't help but laugh a few times, even if it was in a cringing sort of way. Kind of like a second rate Romy & Michele, but not as funny, and loses points for the inclusion of Sophie Monk (the lips are as bad as the acting).
Nicki Marie
Super Reviewer
½
Oh, come on! When I see names like Jane Lynch, Parker Posey, and Will Arnett paired with SNL staples like Amy Poehler, Rachel Dratch, and Seth Meyers I am thinking that there might be something funny going to happen even if just borne of improvisation. I was really wrong. This was horrible. This is a Rachel Dratch creation and was stillborn. This is a very talented group who need to fire their agents for having them put into this long SNL skit cr@pfest. There were a couple of decent set ups and some funny performances and for that it gets 1.5 stars. The premise was old, the jokes were mostly stale, it basically flatlined out of the gate. I am very upset with myself for watching this through until the end and I hope that this great group will come together again in some form or another and redeem themselves having taken a few showers to get the stench off first. Miss this.
Add a review (optional)...
Martin Bishop
Super Reviewer
Spring Breakdown Quotes
| | |
| --- | --- |
| Becky: | (Handing Gayle a hamburger) Here, eat this. |
| Becky: | [handing Gayle a hamburger] Here, eat this. |
| Gayle: | Thank you. This tastes so fucking good! |
| | |
| --- | --- |
| Gayle: | You know what happens to bullies? They get whatever they want but they don't get love, real love |
| Gayle: | You know what happens to bullies? They get whatever they want but they don't get love, real love. |
| | |
| --- | --- |
| Gayle: | (Response to the seven's prayer)So weird you guys are religious |
| Gayle: | [response to the seven's prayer] So weird you guys are religious. |
| | |
| --- | --- |
| Ashley: | Douglas.. Your mole is growing back! |