Spun
(2003)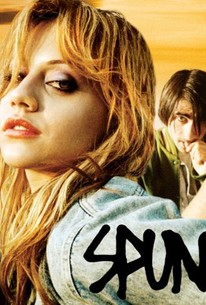 Movie Info
An energetic cast and hyperkinetic direction from music-video wiz Jonas Akerlund drive this black comedy about the world of methamphetamine addicts and dealers. Jason Schwartzman stars as a dropout hired to work for a speed merchant (Mickey Rourke). Former Smashing Pumpkins frontman Billy Corgan composed the music and has a cameo as the Doctor. Mena Suvari, John Leguizamo, Brittany Murphy.
Audience Reviews for Spun
½
I don't ever get the story about drug movie, but I like the visualization when someone hit the drugs.
UUd Irawan Yudha Ariyanto
Super Reviewer
Various meth addicts do various cruel shit. This film is full of stylistic gimmicks: every time a character takes a hit of meth, there is a frenetic special effect, and it is edited so that there rarely is a shot that lasts over three seconds. I'm sure that this might be what it's like to be on meth, but ultimately these gimmicks don't make a film. When I wrote my first sentence, a story synopsis, I didn't know what to write because there isn't a fluid narrative. Additionally, there is not a signal likable character in the film; Jason Schwartzman's character could pass for a hero, but early in the film he handcuffs his naked girlfriend to a bed and blinds and gags her with duct tape - not exactly Atticus Finch. You might say that as a drug film, there shouldn't be any likable characters, but they should at least be interesting or trying to be likable. I think Trainspotting is a good film for comparison. The film basically opens with Renton trying to quit heroin. Of course, he doesn't, but it immediately begins with an admirable goal, one with which we can sympathize. There isn't even the prospect of quitting; even the cops pursuing the addicts are on meth. Overall, the gimmicks that fill this film can do nothing to counter its many glaring flaws.
Jim Hunter
Super Reviewer
What a ride, and I finally got around to watching it. Filled with interesting, complex and totally strung out characters...just going on with their everyday lives. Pretty intriguing flick.
Bannan instant enigma- just add water
Super Reviewer
Spun Quotes
There are no approved quotes yet for this movie.