Spy Game
(2001)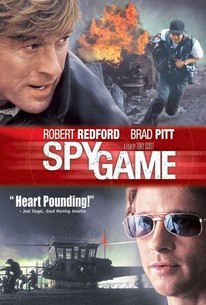 Movie Info
There was a time when CIA operative Nathan Muir and his protégé Tom Bishop were inseparable, traveling the world and tasting everything it had to offer... from Vietnam to Berlin to Beirut. In a profession fraught with danger and uncertainty, Muir and Bishop forged an uncommonly close friendship based on mutual respect and affection. But that was years ago. Now, on the brink of his retirement from the agency, Muir learns that Bishop has gone rogue. His one-time protégé has been jailed in Beijing on espionage charges after attempting to break a prisoner out of China. Years of bad blood and hurt feelings are washed away in a flood of memories of adventures shared by the two men as Muir takes on his most dangerous - and personal - mission ever.
News & Interviews for Spy Game
Critic Reviews for Spy Game
Audience Reviews for Spy Game
½
Man oh man, it's not easy keeping alla world's nutcase reactionary knuckleheads under our protective thumb but, thanks to our boys and girls out of Langley, Virginia, whirred peas is a dish served throughout the whole wide world. Redford plays the administrative guy, dealing with smug policy hacks threats in the store, while Pitt is our boy in the field facing the usual gun-toting variety. Tony Scott films one scene in this CIA love lettet nonsensically revolving around an outdoor, roof of-some-overseas-building exchange. "What was that all about," I wondered.
Kevin M. Williams
Super Reviewer
½
A veteran CIA agent discovers that his protege is being sold out by the agency so he uses his last 24 hours on the job to try and rescue him from execution by the Chinese government. Very much an old school spy thriller, Spy Game's overly generic script means that it's pretty much entirely reliant on the partnership of Redford and Pitt to maintain your interest. Unfortunately they spend very little time on screen together as Redford spends virtually the entire film sat in a meeting shuffling paperwork while telling the largely irrelevant back story of how he met Brad who seems to be little more than a sharp shooting taxi driver. The result is a combination of a humdrum conspiracy thriller and Jackanory which comes across as the cinematic equivalent of an airport paperback. Inoffensive but dull.
½
Robert Redford - like a few other actors - does so few films nowadays that it's a treat to watch him act. While this film isn't particularly memorable, it's still worth a watch. Redford plays a retiring CIA agent who has just 24 hours to save his former protege (played by Brad Pitt) before he's executed for a failed espionage rescue mission in a Chinese prison. Played in mostly flashbacks as the kid comes up through Vietnam and the ranks of the CIA with Redford, the film has its share of excitement and drama, but the acting just seems rather phoned in at times. Directed by Tony Scott, who seems to enjoy being at the helm of these kinds of things.
Derek Daniels
Super Reviewer
Spy Game Quotes
| | |
| --- | --- |
| Nathan Muir: | I didn't have the usual time to butter him up, which meant we had twice the sex with half the foreplay. |
| | |
| --- | --- |
| Nathan Muir: | Technology gets better everyday. That's fine. But most of the time all you need is a stick of gum, a pocket knife and a smile. |