The Spy Next Door
(2010)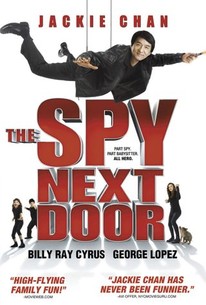 TOMATOMETER
AUDIENCE SCORE
Critic Consensus: Lacking a script funny enough to cover up for Jackie Chan's fading physical gifts, The Spy Next Door fails on every conceivable level.
Movie Info
Reminiscent of Kindergarten Cop, with a dash of Spy Kids, The Spy Next Door blends together an entertaining mixture of family fun and martial-arts comedy styling to form a familiar story that once again reminds us that even hardened action heroes have a soft side. Jackie Chan stars as Bob Ho, an international spy on loan to the CIA who gives up his job in hopes of leading a so-called normal life with his next-door-neighbor girlfriend and her rambunctious brood. There's nothing in Spy that the audience hasn't seen before from similarly themed incarnations (think The Pacifier), but, fans will appreciate director Brian Levant's homage to Jackie Chan's past Hong Kong movie blockbusters -- most notably, Police Story and The Legend of Drunken Master -- during the opening credit sequence, which is fitting considering many of the action sequences are derivative of those films.The main story centers on Bob's relationship with artsy single mom Gillian (Amber Valletta) and her three kids: precocious teenage stepdaughter Farren (Madeline Carroll), nerdy middle child Ian (Will Shadley), and adorably energetic Nora (Alina Foley). After an emergency sends Gillian away to Denver, Bob steps up and offers to watch the kids while she's gone. Ill-equipped to handle a situation that's clearly over his head, Bob utilizes his spy skills and gadgets -- video watch, GPS tracking, x-ray glasses -- to gain control over the situation in hopes of winning over the kid's affection, but when an old enemy escapes from prison and threatens his potential family, Bob must return to his 007 world of international espionage to protect them.Admittedly, there's a certain level of cheese in this film, especially when it comes to the Boris-and-Natasha-style villains, Poldark (Magnús Scheving) and Creel (Katherine Boecher), whose silly Russian stereotyped performances and running joke about American fashion unabashedly border on cringe-worthy territory. Not to mention, the thinly plotted storyline involving brainiac Ian, who accidentally downloads a top-secret formula for oil-eating ooze created by the bad guys, which propels the main action of the film. Adding to the pile are the supporting cast members: George Lopez as the traitorous CIA agent, Glaze, and Billy Ray Cyrus as CIA agent and Bob's BFF Colton James, who lends folksy witticisms like "As gone as rum cake at an AA meeting."Even so, Chan's charm wins out in the end, and The Spy Next Door's most effective sequences involve Bob's attempts to bond with the kids -- from taking little Nora shopping for a Halloween costume to helping Ian with school bullies and girls. These comedic moments more or less overshadow an otherwise simplistic narrative, and the audience can't help but smile to themselves every time Chan appears onscreen. Die-hard fans might miss the era of classic kick-ass Hong Kong action films, but Spy manages to fill that void as an entertaining alternative that kids and parents alike will enjoy. ~ Alaina O'Connor, Rovi
News & Interviews for The Spy Next Door
Critic Reviews for The Spy Next Door
Audience Reviews for The Spy Next Door
½
a silly premise and corny script actually works for a film like this. chan is fun to watch as always and my kids enjoyed it. an average and enjoyable family action comedy.
26/02/2011 (DVD) A family buzz! Definitely a winner for the occasional family night in. Enjoyed it very much, the whole martial-art comedy thing is a plus and Jackie Chan is the right ingredient for that. This won't win any 'Oscar" but it will extract a giggle somewhere. I don't think I could watch this alone, its not that kind of movie to soak in, it's more of a groupie flick where you don't really have to concentrate while you watch it because everything is easy to catch and predictability levels are heightened due to the fact that this plot has been done several times but still... a fun time goodie for the clan. A one-time fun time experience for me but a definite recommendation for all. Honestly there are times in this flick where I'm like "I can't believe they left that line in or that scene" but I guess that's why I enjoyed it more... I sort like crap like that, it just makes me wonder and laugh and think whether they did that on purpose. I don't know?
EightThirty .
Super Reviewer
I have seen hundreds of movies go bad. I've seen plenty try and cram a ham-fisted saccharine, entirely phony message about family values or whatever hackneyed lesson needs to be delivered with the subtlety of a sledgehammer. Rarely have I seen a movie that tries to cram in EVERY banal family message possible into one exasperated running time. There was one point where I counted three clichéd platitudes in a row. Rarely have I seen a movie fail at comedy so badly, even the generous definition of comedy in family films, a subgenre that haunts all those who crossover into it. Rarely have I seen one single family film try to do so much and succeed so breathtakingly little. The Spy Next Door is that movie. Jackie Chan stars as a retired Chinese super spy who the American government wants to keep contracting. He's also dating his neighbor (Amber Valetta) who has three rambunctious kids that fall into easy slots (surly teenager smarting from parent's divorce, dweeby tech kid trying to learn to stand up to bullies, precocious little tyke who makes a mess). Chan agrees to watch over them for a weekend to convince those kids they should give him a shot, or else it's splitsville between he and the mom. It's the Vin Diesel Pacifier movie but done with even less finesse, if possible. The comedy is nonexistent, which is saying something for being as broad as it is, the physical action shows how badly Chan is aging, and the plot is painfully predictable. This is just a sad, uncomfortable viewing experience; it reeks of desperation and despondency. No one looks to be enjoying themselves for a single second. That's probably because The Spy Next Door is a vacuum of fun; it's lazy, incompetent, but worst of all, devoid of any effort to be something other than a mind-numbing, head-scratching waste of 90 minutes. Nate's Grade: D-
Nate Zoebl
Super Reviewer
The Spy Next Door Quotes
There are no approved quotes yet for this movie.