Squirm
(1976)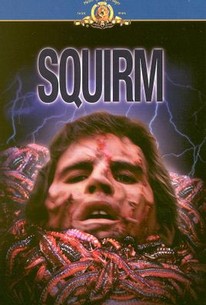 Movie Info
Giant man-eating worms terrorize a Georgia town after a downed power cable electrifies the ground during a terrible lightning storm.
Critic Reviews for Squirm
Audience Reviews for Squirm
½
It was entertaining enough to be watchable, the acting was OK, the premise wasn't too ridiculous and the special effects were thoughtful. This campy classic actually would be quite good on a Sunday afternoon
Sylvester Kuo
Super Reviewer
Squirm is Jeff Lieberman's cheesy tongue in cheek horror flick that displays a terrific twist on the nature gone wild genre of horror. Lieberman is a great director and he's able to deliver a fun and entertaining film that will surely please fans of the genre. Although cheesy, the film delivers good tension and is pretty creative in showcasing some terrific special effects. For its low-budget and the time period, Squirm is a stunning if imperfect film that still manages to be great fun despite the flaws. I thoroughly enjoyed Lieberman's third feature, the obscured Slasher Just Before Dawn, and he truly perfected his craft in the horror genre with that film. However Squirm is a fine debut and showcases the director's talent perfectly. This is the type of film that definitely should not be seen as serious. The film does have a special place in the sub genre of nature gone wild films, and is very entertaining from start to finish. If you love creature films, then this film is for you, and it is a must see for genre fans that like low budget tongue in cheek terror. This one film that is a terrific addition to the genre, and it most certainly is a good, underrated film that has enough entertainment value to keep you involved from the first frame onwards. Jeff Lieberman is a terrific director who has made some good little chillers and Squirm has that aspect which make his pictures a must see for horror fans everywhere. Sure Squirm is silly, but in the end that is what makes this flick so entertaining in the first place.
½
OMG What an absolute classic.....you will bever look at worms the same way again......the boat scene is nasty.
Barry Lappin
Super Reviewer
Squirm Quotes
There are no approved quotes yet for this movie.