Stag Night
(2009)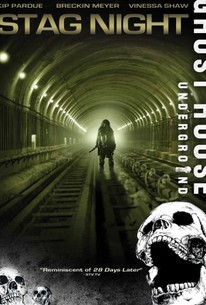 AUDIENCE SCORE
Critic Consensus: No consensus yet.
Movie Info
Peter A. Dowling's thriller Stag Night follows a group of drunken friends in the midst of a bachelor party who decide to take a subway and, once boarding, fund themselves fighting for their life after they witness the murder of a cop.
Critic Reviews for Stag Night
Audience Reviews for Stag Night
½
A average at best horror film that is a cross breed between the much better Creep and Wrong Turn. It borrows a lot from Creep but doesn't have the same tension, scares, or overall creepiness of that film. There is nothing subtle about this. People end up in the wrong place and come across some underground cannibals. Some good gore scenes if you like that. Otherwise pretty average going.
½
Cannibalistic, machete wielding, homeless men, living in the NYC subway system, where they raise families, keep farm animals, and can tap into electricity and cable tv. Yes, this movie is THAT bad! I don't mind a gorefest, but this movie wasn't even scary. There was zero character development, as they spend all of about 10 minutes on a background story. It's just a bad movie, basically just a chase through the subway tunnels. We all know what's going to happen! What a fucking waste of time!
Todd Smith
Super Reviewer
Intresting movie offers nothing new but it's well made and nicely acted.Movie gets going very quickly and it don't out stay its welcome with a short running time of 75mins.Some great gore sences and action too.If you looking for something not taxing and a easy watch give this a go.
Brian De Guelle
Super Reviewer
Stag Night Quotes
There are no approved quotes yet for this movie.