Stage Beauty
(2004)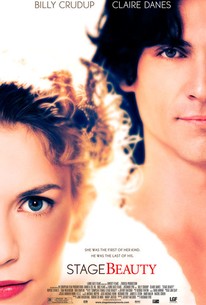 TOMATOMETER
AUDIENCE SCORE
Critic Consensus: Uneven but enjoyable, Stage Beauty uses historical events as the springboard for a well-acted romance with a charming Shakespearean spin.
Movie Info
It's the 1660s, and Edward 'Ned' Kynaston is England's most celebrated leading lady. Women are forbidden to appear on stage and Ned profits, using his beauty and skill to make the great female roles his own. But King Charles II is tired of seeing the same old performers in the same old tragedies. Since no one will take him up on his suggestion to improve Othello with a couple of good jokes, he decides to liven the royal palate by allowing real women to tread the boards. In a slightly less progressive spirit, he rules that men may no longer play women's parts. This is good news for the monarch's mistress, the saucy, stage-struck Nell Gwyn. It is also good news for Maria, Kynaston's lovelorn young dresser who has been secretly performing at a seedy tavern in lavish costumes borrowed from her employer. It is very bad news for Ned, who plummets from his exalted position as one of London's most desirable females to become a virtual nobody, virtually overnight. Cast out of the spotlight, Ned seems headed for burlesque obscurity until Maria, now a rising star, takes it upon herself to make a man of him again.
Critic Reviews for Stage Beauty
Audience Reviews for Stage Beauty
½
Drag actor Ned Kynaston's career is ruined when Charles II reopens the theaters and allows women to appear on stage. The historical inaccuracies of this film are distracting, but the performances by Billy Crudup and Claire Danes make the film worth watching. Crudup captures how Ned Kynaston's gender confusion extends both on stage and in his personal life, and his scenes with Danes are compelling. What holds this film back, more than its inability to capture the spirit of its time the way The Libertine did, is the film's inability to fully explore how sexually and gender interact with societal constraints. The film could be saying that gender and sexuality are socially constructed, but this theme doesn't reach fruition. Overall, I dislike this film mostly because of its wasted potential.
Jim Hunter
Super Reviewer
½
The ultimate gender confusion/sexual identity movie. I found myself liking this a great deal more than the beloved Shakespeare in Love (which I don't understand), it deals with theatre history in a way that isn't corny. Billy Crudup's performance is almost scary, his female withdrawals were extremely believable. I would say that the only bad parts of the movie are the exaggeration of some characters and the fact that there are a ridiculous amount of pointless subplots going on.
Conner Rainwater
Super Reviewer
One of my favorite Billy Crudup movies (the other-- Almost Famous). He does a fabulous performance where he is sexy, beautiful, sad and the audience truly connects with him on his venture to finding himself. Claire Danes is a perfect counterpart in her role. I don't know whom to recommend this film to, because I think a it is either a love or hate film...I loved it!
Cynthia S.
Super Reviewer
Stage Beauty Quotes
There are no approved quotes yet for this movie.