Stage Door
(1937)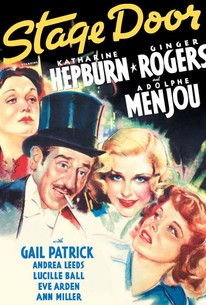 Movie Info
Freely adapted from Edna Ferber and George S. Kaufman play, this is a warm, funny portrait of the theatrical community in New York. Ginger Rogers and Katharine Hepburn play two struggling actresses who live in a boarding house that hosts a number of aspiring actresses attempting to make a mark for themselves on stage. Lucille Ball, Eve Arden, and Ann Miller also play actresses in this very funny movie,
Critic Reviews for Stage Door
Audience Reviews for Stage Door
½
This is the best movie about showbiz that I've seen from the 30s, I highly recommend it. Hepburn gives a fantastic performance and so do Rogers and Ball. If you're an actor too, you will be able to sympathize with the characters as I did. It made me laugh, cry, and feel for the characters and myself as well. It really moved me, that is until the ending. There was a scene towards the end where it felt the movie would end, but it keeps going. If the movie would have ended there, it would have been perfect. I still liked this movie anyway, I enjoyed it.
½
I saw this recently on a channel featuring classics. Amazing to have so many future stars in one movie. The story remains relevant today even though it is a 70 year old movie.
i like it better than the women. gotta wonder how kate and ginger got along
Stella Dallas
Super Reviewer
Stage Door Quotes
| | |
| --- | --- |
| Terry Randall: | Oh, darling, youâ??re sweet... I wish you were going to be there to hold my hand. |
| Terry Randall: | Oh, darling, you're sweet... I wish you were going to be there to hold my hand. |
| Kaye Hamilton: | Iâ??ll be there... (Terry looks at her) ...in spirit. |
| Kaye Hamilton: | I'll be there... [Terry looks at her] ...in spirit. |
| | |
| --- | --- |
| Kaye Hamilton: | I felt the same way a year ago. I felt like running and hiding from everyone... But after youâ??re through that opening speech, thereâ??s a thrill youâ??ll never forget. Itâ??s a thrill that can only come once. |
| Kaye Hamilton: | I felt the same way a year ago. I felt like running and hiding from everyone... But after you're through that opening speech, there's a thrill you'll never forget. It's a thrill that can only come once. |
| Terry Randall: | I canâ??t figure out whether itâ??s thrill or agony. |
| Terry Randall: | I can't figure out whether it's thrill or agony. |
| Kaye Hamilton: | It's both. |