Stan Helsing
(2009)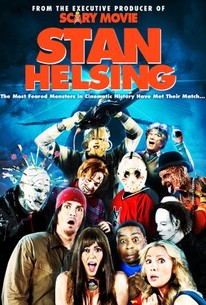 Movie Info
A descendant of the legendary vampire slayer who did battle with the most infamous bloodsucker in history faces off against six of the most frightening monsters of the modern era in this rowdy horror comedy featuring Kenan Thompson and Leslie Nielsen. The closest that video-store clerk Stan Helsing (Steve Howey) ever came to fending off monsters was dealing with disgruntled customers irked at the lack of new releases -- but with Halloween fast approaching, that's all about to change. When the spookiest night of the year rolls around and Stan gets stranded in Stormy Night Estates with a group of his best friends, his true destiny is finally revealed. Stan Helsing shares the same bloodline as Dr. Abraham Van Helsing, the very man who once defeated Count Dracula. When Freddy, Jason, Chucky, Pinhead, Michael Myers, and Leatherface come out to play, Stan becomes convinced that he has the knowledge and know-how to defeat the dreaded horror icons. Perhaps with the help of Teddy (Thompson) and the rest of his longtime pals, Stan can uphold the family tradition of battling baddies and pass the torch to the next generation. ~ Jason Buchanan, Rovi
Critic Reviews for Stan Helsing
Audience Reviews for Stan Helsing
Warning: this movie will likely cause irritation and a severe loss of braincells. Comparable to entering a run-down haunted house, where all the props are malfunctioning and the live-performing ghoulies have long since stopped giving a damn. A barely watchable, underachieving parody, whose only saving grace is its busty female beauties and a brief appearance by the late great Leslie Nielsen. I could extend my distaste for it with an even longer review, but why waste more time on it than I already have. If you want a fun horror spoof, watch Tucker and Dale Vs. Evil instead. Or even a haphazard selection among the Scary Movie flicks, which appear quite ingenious next to a suck-fest like this. To be fair though, it isn't altogether crappy. Kenan Thompson was pretty funny in some scenes and it did have ONE big, sexy appeal: former playmate Diora Baird. Whenever things got too cheesy, at least she was there in her skimpy indian outfit to save the day. She ought to get her own movie, called "Poca-hot-ass"! Besides Diora and her bazongas though, this misfire of a comedy doesn't have much to offer. Kind of like a bad Halloween special of Family Guy, if not more random yet. In other words: avoid like the plague!
Any redeeming quality I tried to find in this was found wanting. Not only does this movie never once make true sense, but it rips off from all the low budget, grunge fests that have been produced in the last ten years with introductions from American Pie, National Lampoon, and the Scary Movie films. Stan Helsing is a parody, that really parodies nothing. It isn't all too funny, though the movie features a hilarious cameo by legend Leslie Nielsen. Besides the women in the film being almost naked with a laughable explanation, and the distinct stupidity of parodies, the characters only possessed substance in the beginning of the film before swiftly shifting to all out chaos and dumbassery. Watch Nielsen on YouTube; otherwise, avoid this like the plague.
Spencer S.
Super Reviewer
Lame. I expected better from Kenan Thompson.
Dead Angel
Super Reviewer
Stan Helsing Quotes
| | |
| --- | --- |
| Stan Helsing: | You drank the holy water? |
| Teddy: | It was Deliciousss *giggles* |
| Teddy: | It was delicious. |