Stand by Me
(1986)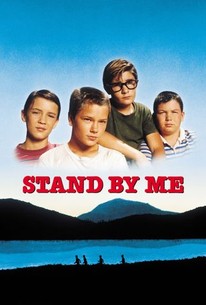 TOMATOMETER
AUDIENCE SCORE
Critic Consensus: Stand By Me is a wise, nostalgic movie with a weird streak that captures both Stephen King's voice and the trials of growing up.
Movie Info
Based on the Stephen King short story The Body, Rob Reiner's easygoing nostalgia piece is set in Castle Rock, OR, over Labor Day weekend, 1959. A quartet of boys, inseparable friends all, set out in search of a dead body that one of the boys overhears his brother talking about. The foursome consists of intellectual Gordie (Wil Wheaton), born leader Chris (River Phoenix), emotionally disturbed Teddy (Corey Feldman), and chubby hanger-on Vern (Jerry O'Connell). The boys' adventures en route to the elusive body are colored by the personal pressures brought to bear on all of them by the adult world. Richard Dreyfuss, playing the grown-up Gordie, narrates the film, while Kiefer Sutherland dominates every scene he's in as a brutish high-school bully. ~ Hal Erickson, Rovi
Critic Reviews for Stand by Me
Audience Reviews for Stand by Me
½
Predominantly known for his horror stories, writer Stephen King released a book in 1982 called "Different Seasons". It contained four novellas, three of which, went on to become successful Hollywood movies which were very far from most other adaptations of his work. One was Bryan Singer's "Apt Pupil" another was Frank Darabont's "The Shawshank Redemption" and the third - originally entitled "The Body" - became Rob Reiner's "Stand By Me". Four young friends, Gordie (Wil Wheaton), Chris (River Phoenix), Vern (Jerry O'Connell) and Teddy (Corey Feldman) go on an adventure together to find the dead body of a local boy who was supposedly hit by a train. By following the tracks, the friends' journey becomes more about them and their personal struggles and soon, the boyish adventure becomes about their experiences of entering adulthood. Delivered with a wonderfully nostalgic narration by Richard Dreyfuss and a good feel for 1950's Americana, this inviting and honest, coming-of-age, tale captures the spirit of youth like very few others. Reiner's feel for the time and the material is pitched so perfectly that you are completely transported back to this era. It's imbued with a sublimely evocative soundtrack of classic 1950's songs, ranging from; Jerry Lee Lewis' "Great Balls of Fire" through Buddy Holly's "Everyday", The Chordettes' "Lollipop" and, of course, Ben E. King's "Stand By Me". It's this very attention to detail that truly brings this affectionate and sentimental film to life, while completely involving you in the trials and tribulations of the four, endearing, youths at it's centre. The four youths in question are embodied with charm and nuance by Wheaton, Feldman, O'Connell and, especially, Phoenix. They are so natural in their deliveries that the failed careers they would go on to have didn't merit the performances delivered here. Phoenix was the only one of the four who would receive critical praise, but sadly his life was cut short at the tender age of 23, making his performance all the more poignant. Rarely has a film captured the innocence and growing pains of young boys on the road to manhood and rarely do you ever get such a rich and heartfelt delivery. It doesn't matter if you didn't experience the 1950's; stepped foot on an Americana front porch or played mailbox baseball. What matters, is that you identify with the characters' rite of passage and that it still perpetuates it's relevance. A wonderfully rustic and nostalgic gem, that's still as inviting and honest as it was on it's release. This is one of those timeless cult-classic's that will always find an audience to resonate with. Mark Walker
Mark Walker
Super Reviewer
½
For some, it's the last real taste of innocence, and the first real taste of life. But for everyone, it's the time that memories are made of. Very good movie and story! Stand By Me is a story of how one event can unexpectedly change lives. It seems to be a story about friends and how important they are, but this possible theme is clearly dispelled in a line from the narration spoken at the end of the film - `As time went on, we saw less and less of Teddy and Vern, until eventually they became just two more faces in the halls. It happens sometimes, friends come in and out of your life like busboys at a restaurant.' Instead, the film is about learning from a life changing experience and actually making changes or modifying your life in some way because of it, and this is heavily emphasized at the end of the film. What Stand By Me does is brings you back to a time when friendship was more pure and innocent and meant more. You can't help but get caught up in the nostalgia. Perhaps this film means more to me for personal reasons but it is a wonderful film and it should be enjoyed by everyone. Based on Stephen King's Short story "The Body", "Stand By Me" tells the tale of Gordie Lachance, a writer who looks back on his preteen days when he and three close friends went on their own adventure to find the body of a kid their age who had gone missing and presumed dead. The stakes are upped when the bad kids in town are closely tailing and it becomes a race to see who'll be able to recover the body first.
½
"I never had any friends later on like the ones I had when I was twelve. Jesus, does anyone?" After the death of a friend, a writer recounts a boyhood journey to find the body of a missing boy.
REVIEW
The premise of "Stand By Me" is a rather simple one. A group of four tightly-knit friends living in a small Oregon town, circa 1959, set out on foot to find a dead body. What could easily have been a routine Stephen King horror show is instead an often touching and nostalgic story about the purity and innocence of friendship before the teenage years and adulthood sets in and sours the deal. Director Rob Reiner's best film by far, the subject matter will hit close to home to anyone who has ever had close friendships that crumbled before their time, regardless of what you went through together. It helps that the actors who portray the foursome - Wil Wheaton, Corey Feldman, Jerry O'Connell and the later River Phoenix - are about as natural as they come and have seemingly strong chemistry with one another. Watching the story pan out, you truly believe these friendships are real, and for such young actors, they manage to handle the tender and emotional moments of this 90 minute film quite well. The most notorious performance is that of Phoenix, whose budding career was tragically cut short when his life met an end eight years later at the hands of a drug overdose. While Phoenix manages to steal the show away from the lead, Wil Wheaton, it must be noted that the ensemble as a whole did an outstanding job. The film focuses strictly on these four, with minor characters popping in and out of the past and present, and if the cast wasn't so strong, the movie would have easily fallen apart at the seams. With such a small running time, you'd think that the film is rather shallow, but such is not the case. Although more could have been expanded on (possibly this film's only true flaw), the story flows naturally as you share the ups and the downs with its characters. "Stand By Me" is a true classic in every sense of the word. It's got a significant amount of nostalgia, and it also has a bittersweet edge, both for its downbeat but true to life ending and for anyone who has lost similar bonds in their lives. The last lines of the writer in the film rings truest and sums up the film nicely: "I never had any friends later on like the ones I had when I was twelve. Jesus, does anyone?"
Lorenzo von Matterhorn
Super Reviewer
Stand by Me Quotes
| | |
| --- | --- |
| Teddy Duchamp: | Train dodge. |
| | |
| --- | --- |
| Gordie Lachance: | Do you think I'm weird? |
| Chris Chambers: | Definitely. |
| Gordie Lachance: | No man, seriously. Am I weird? |
| Chris Chambers: | Yeah, but so what? Everybody's weird. |
| | |
| --- | --- |
| Charlie Hogan: | I still don't think we should go. |
| Ace Merrill: | Okay, okay. You've stated your position clearly. Now I'm gonna state mine: get in the fucking car, now! |
| | |
| --- | --- |
| Gordie Lachance: | Do you think I'm weird? |
| Chris Chambers: | Definately. |