Standard Operating Procedure
(2008)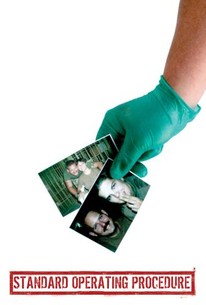 TOMATOMETER
AUDIENCE SCORE
Critic Consensus: Well researched and finely crafted, Standard Operating Procedure is another gem from master documentarian Errol Morris.
Standard Operating Procedure Photos
Movie Info
"Standard Operating Procedure" provides an examination of the unintended consequences of the Iraqi war with a focus on events at Abu Ghraib prison which began to appear in global media in 2004. The prison quickly became notorious for the shocking photos of the abuse and torture of terror suspects by military men and women. Ultimately, it is the story of soldiers who believed they were defending democracy but found themselves plunged into an unimagined nightmare.
News & Interviews for Standard Operating Procedure
Critic Reviews for Standard Operating Procedure
Audience Reviews for Standard Operating Procedure
"The fact that a person acted to pursuant to order of his government or of a superior does not relieve him from responsibility under international law, provided a moral choice was in fact possible to him." - Nuremburg Principle IV "Military intelligence is a contradiction in terms." - Groucho Marx Errol Morris turns his eyes from the top of the military command with Robert McNamara(currently burning in hell) in "The Fog of War" to those at the bottom with the riveting documentary "Standard Operating Procedure" about the documented abuses at Abu Ghraib prison in 2003. Per his usual style, he allows his subjects to tell their own story and possibly explain what they were thinking when they took the infamous photographs of abuses. My personal theory is that they were meant as souvenirs much in the same way that hunters would take photos of themselves with animals they killed. While expressing doubts in letters back home, Sabrina Harman said she took the photos as evidence while also appearing smiling in some of them. On one level, there was the standard operating procedure which consisted of bringing in Iraqi men of military age at random and softening them up for interrogation which included sleep deprivation.(The photograph of the prisoner standing on a box with his arms outstretched was part of procedure.) Even these procedures turned out to be useless in gathering useful intelligence. Then, there were actions which even the authorities thought went beyond this which included ritual sexual humiliation. A lot of this has to do with power, as the poorly trained and unsupervised soldiers as part of a herd mentality used it against those who could not defend themselves. The fact that they tried to hide what they did from their superiors proves that they thought they were doing something wrong. My only question: is how did the photographs get out? And one minor point: "Standard Operating Procedure" was distributed by Sony Pictures Classics. At one point, in the documentary two of the cameras are identified as being Sony. Since this might not have been necessary, there is a hint of product placement.
Errol Morris tries a different style in this one. The interviewees don't look straight into the camera (his signature shot), but it's also not a film about backwoods hillbillies or pet cemeteries. The subject matter is intriguing, and it's cool to get testimonies of the prison guards in trouble. Yes, I believe they got set up for failure, and as brainwashed military they were just doing what they were told to do. However, could they be any more STUPID to take all those pictures? I think not. Hmmm...let's give a thumbs up and smile while standing over the dead body of a guy we killed. Real classy.
Curtis Lilly
Super Reviewer
Oh boy. I saw this one at the same time as Taxi to the Dark Side and they kind of morph into each other. Errol Morris as usual gives us some interesting visuals...but imagine if the two documentarians had collaborated on a much better join project?
John Ballantine
Super Reviewer
Standard Operating Procedure Quotes
There are no approved quotes yet for this movie.