Stander
(2004)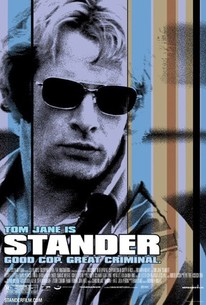 Movie Info
A lawman fed up with the corruption in Apartheid-era South Africa takes to robbing banks in this gritty crime drama from writer/director Bronwen Hughes. The title Stander refers to Andre Stander (Thomas Jane), an ambitious second-generation policeman whose strategies and experience make him the perfect candidate for commander. But when the privileged Stander is chosen to direct the police force against a brutal, majority-led uprising in Soweto, he becomes so disgusted with his actions that he decides to undermine his own authority as an officer. His means for doing so is to moonlight as a bank robber, partly out of disgust for the force and partly as an adrenalin-fueled act of deception. After pulling more than two dozen heists, Stander is caught -- but it isn't long before he breaks out of jail, and fortified by two hardened-criminal pals, Lee (Dexter Fletcher) and Allan (David Patrick O'Hara), he resumes his anti-authoritarian crime sprees. Stander premiered at the 2003 Toronto Film Festival.
Critic Reviews for Stander
Audience Reviews for Stander
½
Genre: Crime. Based on real life story. IMDb Rating: Above 7. Well, that was enough to set me going. But the experience was mixed. The script & screenplay isn't up-to-date here; it fails in properly fictionalizing the facts. Some of the sub-plots created to support the story at a later stage are too unconvincing. After having killed an unarmed protesting citizen in a riot, Andre Stander, one of the captains of the riot squad, asks to free himself from that duty. He was already getting sick of the corruption around him & this riot event only worsened the matters for him. In the midst of this crisis, he begins to rob banks, but eventually gets arrested. He manages to escape, though, with a partner, & later manages to get one more of his inmates out. The three start robbing banks, which soon gains media's attention & the trio is thereby referred to as 'The Stander Gang' by the media & hence the public at large. After a while, Stander feels that he should escape with his wife. But his wife disapproves of his actions, saying: ?There?s not a thinking man among us that doesn?t want to blow this place to smithereens from time to time. But we don?t. We find other ways.? Despite of this, he plans an escape, to be followed by a final heist, with his partners. But do things work out the way they?d planned? While the first half was good enough, much of the second half was messy. I'm not saying that the second half was absolute crappy. It had its highs & lows, but the lows were far more than the highs. One of the protagonists says: "We've written a pretty good story so far. Why not a perfect ending?" But the ending wasn't that great either. The creation of the South Africa in the 80s era is done quite well, though. Thomas Jane is exceptional. The way he plays this complicated character is amazing. Deborah Unger is excellent. Dexter Fletcher & David O'Hara are passable. All in all, the movie works in parts & is worth a shot for those parts, IMO. 6.5/10.
familiar stranger
Super Reviewer
½
Great character piece and early performance by Thomas Jane
Ken Stachnik
Super Reviewer
I bought this sight-unseen and turned out to really like it. Deborah Kara Unger can't really pull of the South Afircan accent, but otherwise this movie is areally good. I just wish it didn't end on such a down note. Oh well. It was still really good, and was peppered with humour.
Emily Armstrong
Super Reviewer
Stander Quotes
There are no approved quotes yet for this movie.