Standing in the Shadows of Motown
(2002)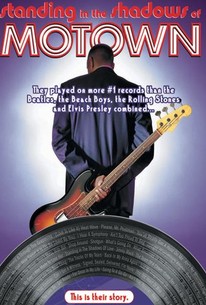 Standing in the Shadows of Motown Photos
Movie Info
In 1959, Berry Gordy gathered the best musicians from Detroit's thriving jazz and blues scene to begin cutting songs for his new record company. Over a fourteen year period they were the heartbeat on "My Girl," "Bernadette," I Was Made to Love Her," and every other hit from Motown's Detroit era. By the end of their phenomenal run, this unheralded group of musicians had played on more number ones hits than the Beach Boys, the Rolling Stones, Elvis and the Beatles combined - which makes them the greatest hit machine in the history of popular music. They called themselves the Funk Brothers. Forty-one years after they played their first note an a Motown record and three decades since they were all together, the Funk Brothers reunited back in Detroit to play their music and tell their unforgettable story. The Funk Brothers story is told through archival footage and still photos, narration, interviews, re-creation scenes, 20 Motown master tracks, and twelve new live performances of Motown classics with the Funk Brothers backing up Chaka Kahn, Ben Harper, Bootsy Collins, Montel Jordan, Meshell Ndegeocello, Joan Osborne, and Gerald Levert.
Critic Reviews for Standing in the Shadows of Motown
Audience Reviews for Standing in the Shadows of Motown
A great exploration of the performers who don't get the measure of credit that they should - the background players. This is the story of those who can be heard on the hits but are lost in the credits. Very gifted and talented. I'm glad their story is told.
John Ballantine
Super Reviewer
½
Great: hearing the original Motown musicians play together and tell stories. Not great: fleeting-popularity guest singers like Joan Osborne, Ben Harper, Meshell Ndegeocello and Gerald Levert (not to mention a lot of ugly perms) that make the film seem badly dated just 10 years later. The occasional use of acted recreations is another dubious -- and unnecessary -- choice.
Eric Broome
Super Reviewer
Fantastic documentary about a group of unknown musicians, self-named The Funk brothers who were the musical force behind so many of the Motown classics; partnering Marvin Gaye, Stevie Wonder, the Four Tops, Smokey Robinson... name a hit, and chances are, they were playing on it. Narrated by Andre Braugher, the film for the most part keeps him in the background and lets the musicians speak for themselves, and they do in a series of gentle stories and anecdotes. mixed with sadness about the musicians they lost along the way. The reminiscing is interleaved with a recent reunion concert where, if you weren't convinced so far, they prove once again that their contribution to the Motown sound was priceless. If you're a fan of the music already, this is a must-see.
Standing in the Shadows of Motown Quotes
There are no approved quotes yet for this movie.