Star 80
(1983)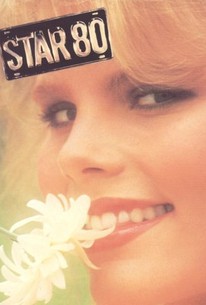 Movie Info
Fact-based and notorious, this biopic from Bob Fosse chronicles the rapid rise and abrupt, tragic fall of former Playboy centerfold Dorothy Stratten. She may have been a major star had she been able to break free of the abusive husband who eventually killed her and then himself. This was choreographer/filmmaker Bob Fosse's final film.
News & Interviews for Star 80
Critic Reviews for Star 80
Audience Reviews for Star 80
½
Eric Roberts melds charm, sleaze, and volatility into one unsettling performance. That said, If the movie was a little more focused on Hemingway it could have been a masterpiece.
Alec Barniskis
Super Reviewer
Snider: Well, you can take your magazine, your mansion and your movies and shove'em all up your ass. Star 80 is an amazing look at the celebrity life style and how it can affect a relationship. Eric Roberts and especially Merial Hemingway give fantastic performances. Roberts plays Paul Snider, a sleazy, fast talking womanizer who meets Dorothy(Hemmingway) who is working at a Dairy Queen. He sees how beautiful she is and soon she is posing nude for Playboy, marrying Paul and starring in movies. Soon Paul's jealousy starts to get in the way of the relationship though.  Hemingway is amazing as a young, beautiful Playboy model who never loses her innocence. She's always charming and sweet, while Paul is always angry and paranoid. I guess opposites do attract. Bob Fosse really did a great job with his direction. The story is brilliantly told and well paced. We see little flashes of interviews interwoven with the story and also flashes of Paul Snider going nuts, which is giving little hints of what's to come.  The movie turned out to be a lot more then I thought it would be. From the summary it sounded like it would be a fun movie, but probably not the great. Now after seeing it I can say it was entertaining film, but definitely not a fun one and also that it is a great movie. Star 80 is an underrated and under appreciated movie. If I brought it up with some friends, I highly doubt any of them will have heard of it. It's just not a big name classic movie. That's a little depressing because it should be. It's truly a magnificent film.
Melvin White
Super Reviewer
Bob Fosse's Boogie Nights. Eric Roberts gives a fantastic psychopathic performance in this heavy drama by the master director.
Ken Stachnik
Super Reviewer
Star 80 Quotes
There are no approved quotes yet for this movie.