The Star Chamber
(1983)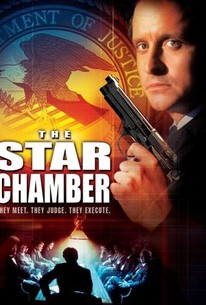 Movie Info
Fed up with watching vicious criminals walk on technicalities and loopholes, judge Michael Douglas accepts his older colleague Hal Holbrook's invitation to join "The Star Chamber." This sub-rosa organization consists of nine like-minded judges who endeavor to take the law into their own hands.
Critic Reviews for The Star Chamber
Audience Reviews for The Star Chamber
I don't get why Michael Douglas, in the poster for the movie on this website, is holding a gun...he never even comes CLOSE to one, let alone use it. I just think it's quite odd. Anyway, I don't know what is it about this movie but I just didn't get into it at all. The idea is a pretty fantastic one, but a) They take to long to set up that idea and b) they never really do anything with it. There's three scenes where they're meeting, but each scene is probably a minute long. Quite frankly, I'd have preferred the entire movie to be just those meetings between them and the discussions that could come of that. I think the problem is, the movie has identity issues, it wants to be legally accurate, it wants to create discussion between the viewers about what they would do and it, somewhat, tries to be an action movie. There's a completely random, and really quite unnecessary car chase scene just because they COULD. It just doesn't work, some movies can handle different themes and ideas they want to get across (IE: Ghost Dog) and others just can't. This is one of the movies that can't. It's not a bad movie by any means, it certainly has its moments but for the potential the movie had is completely wasted. Which is why I'm hoping somebody makes a remake, or does a similar type of thing (as this actually happened in real life) because such a story is pretty much perfect for a movie. In fact, I'm quite surprised more movies haven't done this type of thing, it just seems like a no-brainer. As it stands, it's an ok movie with severe identity issues that just make the movie an underwhelming experience.
Jesse Ortega
Super Reviewer
½
Good thriller with interesting implications on the justice system. From what I remember, the poster is a bit misleading by having Douglas armed and ready with a gun. He is a judge! The movie consists of mostly psychological thrills.
Byron Brubaker
Super Reviewer
½
Could have been more than mildly entertaining.
Anthony Valletta
Super Reviewer
The Star Chamber Quotes
There are no approved quotes yet for this movie.