Star Kid
(1997)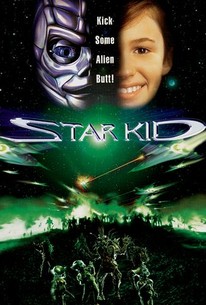 Movie Info
Skinny seventh-grader Spencer spends recess avoiding class-bully Turbo. But when Spencer dons an android cyborsuit that crashed in a meteor, Turbo will be no trouble. Spencer then learns he must defeat the outer-space arachnid, Broodwarrior.
Critic Reviews for Star Kid
Audience Reviews for Star Kid
you know if i lived the rest of my life without flixster reminding me of StarKid, it would have been fine. so theres my answer to this movie
Coxxie Mild Sauce
Super Reviewer
I remember when this movie came out I avoided it like the plague. Stupid title, ugly poster and directed by Manny "Dr. Giggles" Coto. Ugh! Man, was I wrong! This is actually a surprisingly great family film with some really good-looking FX. I'll definatly see this one again.
A.D. Villarreal
Super Reviewer
Star Kid Quotes
There are no approved quotes yet for this movie.