Star Slammer: The Escape
(1987)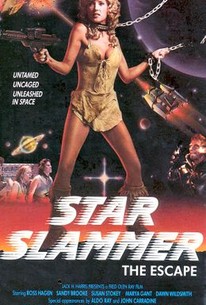 AUDIENCE SCORE
Critic Consensus: No consensus yet.
Star Slammer: The Escape Photos
Movie Info
Gorgeous space traveller Taura (Sandy Brooke) is captured on the planet Arous (as in "The Brain From..."?) Taura is accused of a murder she didn't commit by Bantor (Ross Hagen) , chief flunkey of the all-powerful Inquisitor (Aldo Ray). She is incarcerated in an intergalactic prison ship, populated by beautiful, barely dressed woman. Thus does science fiction segue into "babes behind bars",complete with a sadistic female guard named Muffy (Dawn Wildsmith). Don't worry: you're not supposed to take this one seriously. John Carradine costars in this lively R-rated cheapie, which was also released as Star Slammer.
Critic Reviews for Star Slammer: The Escape
Audience Reviews for Star Slammer: The Escape
Summary: The movie is very straightforward, some girl gets arrested by evil people and then she and the other prisoners must find a way to escape. The Good: Well if you like campy B-Movies than you can find a lot of good things in this movie. Spaceships, aliens, sexy women, cheesy dialogue and over-the-top action. The Bad: Well the entire movie is bad. But it's still entertaining and enjoyable. Ratings: Acting: 4/10 Story: 4/10 Originalality: 4/10 Soundtrack: 4/10 Characters: 4/10 Overall: 6/10 Sexiness: (The following is my Review for the fappers 18+): A pretty good movie to fap to. The main character take her shirt off a few times and throughout the whole movie you can see her nipples through her shirt. The entire ship is filled with only woman prisoners and they are all very good looking. The warden and her assistant or whatever the hell she is are two kinky big breasted MILFs who are in revealing latex outfits the whole time. There's also a pretty nice spanking scene. Fap Rating: 7.5/10
Professor Wizenhymer
Super Reviewer
Star Slammer: The Escape Quotes
There are no approved quotes yet for this movie.