Star Trek
(2009)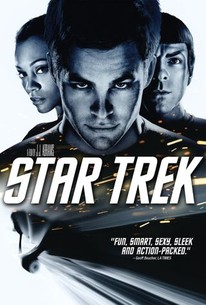 TOMATOMETER
AUDIENCE SCORE
Critic Consensus: Star Trek reignites a classic franchise with action, humor, a strong story, and brilliant visuals, and will please traditional Trekkies and new fans alike.
Movie Info
Mission: Impossible III director and Alias creator J.J. Abrams resurrects the classic science fiction franchise created by Gene Roddenberry with this feature film that embraces the rich history of the influential television and film series while also exploring some uncharted territory. Heroes star Zachary Quinto assumes the role of the Federation Starfleet lieutenant and Vulcan made famous in the original series by Leonard Nimoy (who also appears in an older incarnation of his original role), Spock, with Anton Yelchin stepping into the role of USS Enterprise navigator Pavel Chekov, Zoe Saldana assuming the role of communications officer Uhura, Simon Pegg keeping the ship in top shape as chief engineer Montgomery Scott (aka "Scotty"), and Eric Bana tormenting the benevolent space explorers as the villainous Nero. Harold and Kumar Go to White Castle co-star John Cho also boards the Enterprise as Hikaru Sulu, with Chris Pine and Karl Urban assuming the legendary roles of Captain Kirk and Leonard "Bones" McCoy, respectively. ~ Jason Buchanan, Rovi
Critic Reviews for Star Trek
Audience Reviews for Star Trek
Throughout the years, Star Trek has always been known as the television series that brings in a much older and maturer viewership. While that is true, there were still the fantastical elements to keep the younger viewers engaged. With the release of the rebooted Star Trek in 2009, it was clear that the fantastical elements were going to be needed more than ever, in order to bring in a new and fresh audience. Now, don't get me wrong here, but I do believe the 2009 Star Trek film was able to prove itself better than the original film series. Having never watched the original television series, I will refrain from comparing the film to that. Having seen every one of the ten previous films based on the original series and the next generation, I must say that they are going in a much stronger route this time around. Playing it very close to the chest with the original films, it felt like they are not exploring enough outside of what the television show was offering. 2009s Star Trek definitely proves its worth, by not just exploring, but by thrilling its audience from start to finish. Nothing will touch the television series, but this is why I believe Star Trek (2009) to be a better film than any of the previous ones. As previously stated, the original series focussed more on the brains of the operation, and less on the operation itself. Not to say the original series did not have its share of thrilling elements, but this just has much more of it. Sure, on television it may be crucial to explain every plot point in great detail, but for a two hour film, audiences can get pretty bored, pretty fast. Personally speaking, I am actually a fan of slow-burn storytelling, as long as it has a worthwhile payoff. Being a fan of all genres of film, slow-paced and extremely exciting films have all impressed me in the past. This is not how the average moviegoer feels. The average person walks into a theatre hoping for an exciting time, helping them escape from reality for a few hours. If a film is not engaging enough, it becomes a bore, losing its audience and making them remember the reason they wanted to come to the cinema in the first place. 2009s Star Trek is the prime example of an audience pleaser. From the very first scene with Kirk's father, to the incredible voyages through time and space, to the eventual climax, this film never lets up, making for a very exciting thrill ride. Instead of hard-to-understand terms, this film has the perfect balance of both smarts and wits. That is solely due to the fact that J.J. Abrams was brought on to helm this film. Say what you will about how Star Trek is always compared to Star Wars, or vice versa, but it is without question that Star Wars has always been the more accessible franchise for all ages. Bringing J.J. Abrams on board to direct was probably the best decision they could have ever made for this franchise. Giving the helm to a man who is known for bringing new life to a franchise, while simultaneously keeping the old feel, is something very rare to accomplish. Star Trek has always been more brain than bronze, while Star Wars is the exact opposite. Staying true to the original series, director J.J. Abrams was able to cast young versions of the classic original characters, all feeling like worthy shoe-fillers. Filled with lens flares, fast-paced action sequences, and some pretty funny quips from some of the characters, this film definitely feels like an upgraded version of its name. While Star Trek does change the feel of the original series, which may turn some fans away, it also keeps the smart interaction between the characters, making for an even more engrossing experience. Meshing modern day style with the old slow-burn pacing of the original television series, this is the Star Trek that I believe we needed for this decade. Beginning with the origin of James T. Kirk, fans of the series get a really cool treat in watching this character grow up from a toddler to a full grown adult. Against all odds, Kirk is able to train to become a part of Star Fleet like his father and passes with flying colours. Not being allowed on the ship after a few arguable mistakes, he is able to find his way on and provide both insight for the captain, as well as being a nuisance for everyone else. Being the smart-ass he is, this makes for a very fun film when characters get to interact with one another. Who would have thought that a Star Trek film would feel this original after all these years? Sure, it borrows many elements from the past in order to move its story forward, but it's also a fresh story all on its own. Not only does it still feel fresh, but is also able to keep the time travel elements and a cool villain, while making them completely different than any aspects of these elements audiences have seen in previous films. Speaking of the villain, this is where Star Trek films usually fail, but bringing personal motive into the story, this villain was more interesting than I believe many viewers were expecting at the time. Nero, played enjoyably by Eric Bana, may not be one of the best aspects of the film as a whole, but he is definitely better than I believe he had any right to be. Having a personal vendetta against Spock and his crew, his path of vengeance is not one to take lightly. Eric Bana's performance as this character was a blast to watch. Him not being in the film would mean that Kirk would not have been captain in the future. His purpose is far greater than just a throwaway villain. Travelling through time after being involved with Kirk's father in the past, added some great depth to the film, which I felt was absolutely necessary. Once you are able to accept that they are once again using time travel as a story element in this franchise, you will be able to forgive the big moment in the second act of the film. Minor spoilers for those who have yet to see this film: After being deported from the ship by Spock in the second act, Kirk lands in a different place in time. Meeting the older version of the Spock he currently despises (played by Leonard Nimoy), felt like a nice surprise for fans. While it was unnecessary to have Leonard Nimoy back as Spock, it also felt earned and respectful of the source material. In the older films, time travel is used to further the story, just like this film does, but there was a bit too much comedy interjected to really take it seriously (ie. Star Trek IV: The Voyage Home). The fourth film of the original series was a great one, but too much comedy in a dramatic film can be jarring. This film balances the comedy aspects perfectly in my opinion. Pretty much every great aspect, plucked out of the original films, is present here. They just seem to have done everything right with this reboot. Overall, Star Trek (2009) is a far better picture than anyone would have predicted. Filled with exciting visuals, directed with care, and a cast that both feels fresh and that pays tribute to the original actors, there is just too much in this film to love. Feeling fresh and invigorated, this film is what the franchise needed if it was going to come back to the cinema in this day and age. J.J. Abrams was definitely the right choice to helm this film and I can't wait to see what the future sequels in this rebooted franchise will hold. Star Trek (2009) is fantastic!
½
J. J. Abrams is perhaps the single most overrated filmmaker working today. In a cinema age dominated by marketing and brand name recognition, he is the crown prince of hype, who has pulled off audacious levels of success by pulling the wool over our eyes. He is the master of taking something which is ordinary, unremarkable or downright poor and making it appear like the Second Coming of compulsive viewing. He is, to put it another way, our generation's Wizard of Oz. Having sold us a decent monster movie in Cloverfield, and co-created the most overrated TV series of all in Lost, Abrams has now turned his hyping hands to Star Trek. In the series' first outing since Star Trek: Nemesis seven years earlier, Abrams attempts to reboot the entire series and bring in a new, younger audience while appeasing long-time fans. What results is promising and watchable, but it also squanders a lot of its potential and ultimately leaves us feeling empty. There can be no denying that Star Trek looks good. Notwithstanding Abrams' baffling obsession with lens-flare (which reared its ugly head again in Super 8 two years later), the film is a breath of fresh air for those who endlessly groaned about the creaky special effects in 'Trek films. You won't find any plastic rocks or monsters made out of pipe cleaners here, with the CGI being crisp and the aliens realised in a generally convincing way. The camera may be on the move a little too often for those of us who like stories to unfold naturalistically, but cinematographer Daniel Mindel keeps us on an even keel with attractive lighting and responsive compositions. From a character perspective, Star Trek manages to give us fresh character portrayals which also tie up well with their older selves. We can certainly believe that these young characters will grow into the people we know from the TV series and original films. Chris Pine nicely captures the headstrong, impulsive, reckless nature of Kirk, and there are early traces in Zachary Quinto's performance of the imperious stoicism that the late Leonard Nimoy made his own. The best piece of casting, however, is Karl Urban as Bones: he's so hilariously irascible, but the film never lays on the humour too thick in either his performance or his dialogue. Because the film is attempting to appease old fans as well as bring in the new, there are quite a lot of references to the Star Trek back catalogue in here. The sequence of Sulu sword-fighting is a slightly updated restaging of George Takei's swordfighting in 'The Naked Time', and the reappearance of the Kobayashi Maru immediately brings to mind Star Trek II: The Wrath of Khan. Some references are broad and well-known, such as the Prime Directive and the Romulans, while others are more obscure: Captain Pike will be a familiar figure only to those who saw the original pilot. When interviewed for the BBC's Red Dwarf Night in 1998, Patrick Stewart said that he wished some of the show's "wild, ironic humour" could have been incorporated into The Next Generation. Regardless of how well this would have worked, there is quite a lot of welcome humour to be found in Star Trek. One of the biggest problems of the original series was how seriously William Shatner played every scene, when the sensible thing would have been to acknowledge its limitation and knowingly embrace its silliness. Here, we get to see Kirk as more of a wisecracker, and Spock is the perfect foil, especially during his early scenes at Starfleet. So far, Star Trek is shaping up to be decent effort, improving on the originals' production values, bringing more humour to the table and doing justice to the characters. But there's one massive problem with Star Trek which leads onto several smaller but equally bothersome problems, and when combined they ultimately scupper this film. The single biggest problem with Star Trek is this: it's not a proper 'Trek film, because it isn't driven by ideas. Even at their weakest, the Star Trek series and film franchise were idea- or concept-led, much like the halcyon days of Doctor Who; rather than simply settling for a clearly drawn, good vs. evil pantomime, they tried (albeit with many failures) to tackle subjects which were interesting, complex or provocative. For everything that is wrong with Star Trek: The Motion Picture or Star Trek V: The Final Frontier, they deserve a modicum of credit for the ideas they attempt to espouse. Star Trek starts off very promisingly, but it eventually becomes a Star Wars film by any other name. It's not surprising that Abrams was more of a Star Wars fan than a Trekkie growing up, with the resemblances growing stronger as the film progresses. The entire sequence on the ice planet is simply the beginning of The Empire Strikes Back with a bigger, less memorable monster. To claim that Star Trek does for Starfleet what Batman Begins did for the Caped Crusader is to overstate its virtues while doing Christopher Nolan a hue disservice. When Nolan approached the Batman franchise, which had been in hibernation for a similar length of time, he wanted to take Batman back to its dark, moral roots, reshaping the iconography to explore complex philosophical ideas. It's no surprise that Abrams is now helming the latest Star Wars film, because he clears prefers spectacle to scintillating conversation, and dog-fighting to dissections of dogma. All the aspects of Star Trek which should have weight is either overlooked or quickly abandoned. The time travel and comparisons between the universes are reduced to an Austin Powers-style plot device: Kirk's conversations with Spock Prime are largely padding, with Nimoy's appearance serving as a sop to older fans. The red matter used by Nero (a good performance by Eric Bana) could have been explored in the manner of the Genesis device, as a symbol of how uncontrollably powerful yet dangerous the desire for revenge can be. Instead, it becomes just another plot mechanism, brought up occasionally in an attempt to add drama when it actually does nothing of the sort. Then there is the problem of sexualisation, with Star Trek going strongly after the teenage boy market at the expense of everyone else. The romance between Spock and Uhura makes little sense and goes nowhere, and then there are the costumes. On the one hand we have the shots of Uhura and her roommate in their underwear for no good reason; on the other hand, all the woman wear very short skirts, but all the men are always fully clothed. It's bizarre that Star Trek Into Darkness got such a public wrap for a similar double standard while this escaped seemingly unscathed. Although Gene Roddenberry always intended to make a prequel to the original Star Trek series, this film does not honour the intentions or spirit of his work in any meaningful way. While the best Trek films were properly plotted and ended on a strong and resonant note, this gradually unspools into a series of incoherent and frankly boring battle scenes. We are constantly bombarded by noise, special effects and lens-flare but not given enough by way of character stakes to keep us interested. Star Trek is a disappointment which could easily have been better if anyone other than Abrams had directed it. While it generally looks better than some of the other films in the series, and benefits from a good-humoured cast, on a narrative level it has far too little between its ears and not enough substance or discipline to sustain our attention. As a totally disposible slice of space fantasy, you could do a awful lot worse, but true Trek fans will not be abandoning the old films any time soon.
Daniel Mumby
Super Reviewer
What? Yeah, this movie was kind of awesome. Except, really, Winona Ryder? Smallest part ever...
Jennifer D
Super Reviewer
Star Trek Quotes
| | |
| --- | --- |
| Spock Prime: | You are, in fact, the Mr. Scott who postulated the theory of transwarp beaming? |
| Scotty: | That's what I'm talking about! How do you think I wound up here? Had a little debate with my instructor on relativistic physics and how it pertains to subspace travel. He seemed to think that the range of transporting something like a... like a grapefruit was limited to about 100 miles. I told him that I could not only beam a grapefruit from one planet to the adjacent planet in the same system - which is easy, by the way - I could do it with a life form. So, I tested it out on Admiral Archer's prized beagle. |
| James Kirk (young): | Wait, I know that dog. What happened to it? |
| Scotty: | I'll tell you when it reappears. Ahem. I don't know, I do feel guilty about that. |
| | |
| --- | --- |
| Spock Prime: | [closing monologue] Space: the final frontier. These are the voyages of the starship Enterprise. Her ongoing mission: to explore strange new worlds, to seek out new life-forms and new civilizations; to boldly go where no one has gone before. |
| Spock Prime: | Space: the final frontier. These are the voyages of the starship Enterprise. Her ongoing mission: to explore strange new worlds, to seek out new life-forms and new civilizations; to boldly go where no one has gone before. |
| | |
| --- | --- |
| Capt. Nero: | James T. Kirk was considered to be a great man. He went on to captain the U.S.S. Enterprise... but that was another life. A life I will deprive you of just like I did your father! |
| | |
| --- | --- |
| Leonard "Bones" McCoy: | Don't pander to me, kid. One tiny crack in the hull and our blood boils in thirteen seconds. Solar flare might crop up, cook us in our seats. And wait'll you're sitting pretty with a case of Andorian shingles, see if you're still so relaxed when your eyeballs are bleeding. Space is disease and danger wrapped in darkness and silence. |