Star Trek: Insurrection
(1998)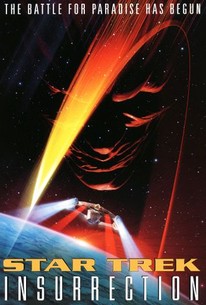 Star Trek: Insurrection Videos
Star Trek: Insurrection Photos
Movie Info
The battle for paradise has begun. Captain Picard and the crew of the Enterprise fulfill one of man's enduring dreams - to find a fountain of youth. When the existence of this newfound paradise is threatened, Picard faces a daunting decision - in order to protect the lives of the inhabitants of this alien world, he must commit treason and take up arms against the Federation itself.
Critic Reviews for Star Trek: Insurrection
Audience Reviews for Star Trek: Insurrection
The best of the odd-numbered Star Trek films, Insurrection doesn't boast nasty villains or terrible dangers but plays like a great extended TV episode, with a compelling plot that works as a smart political commentary on Western imperialism.
Carlos Magalhães
Super Reviewer
½
The next generation crew steps up to the plate with a third film but does it knock one out of the park? Well not to beat around the bush no it doesn't, its a full strike if you ask me. I'm not gonna sugar coat it, gotta be cold here. For me this was easily the weakest Trek film so far, even worse than 'Star Trek V'. I know I have used the term 'outstretched TV episode' a few times in previous reviews with Star Trek but this one term really sums up this film to a tee. Apart from the quite dreadful grey scale shaded tone that accompanies every scene on board the [i]Enterprise[/i] which somehow now seems more intrusive than in the previous two films, the plot is utterly non-engaging or even remotely interesting. A planet which harbours immortal regeneration powers that Starfleet and the alien race Son'a wish to keep for themselves whilst at the same time evicting the local hippie population. Say what now?? yes that's right, its basically all about evicting some perfect happy go lucky boring blonde haired blue eyed farm folk off their planet...and that's it. I'm not even sure if there were any bad guys in this! I suppose they were naughty, not really much of a threat though, it was just a few groups fighting amongst themselves really, nothing more. The whole film is so so utterly pointless and dull for virtually the entire run time! It only kicks into action for a small segment near the finale and even that was very mediocre stuff. Everything looks exactly as it does on the TV show, there is nothing that would make you think this is a big budget movie. The effects are no better! you would think they might be getting better but no, this film actually goes a step backwards. There is just something about the next generation design, even though these are movies they just can't seem to shake the look and feel of the TV series. The classic crew movies didn't always look tremendous but they were always much better looking than the original show, they always had real silver screen moments. I'm afraid to say this entry has none what so ever. It seems as though everything is now fully CGI here, I'm not a fan of computer generated effects and I think this is a good example why. The only thing that looks good and realistic in this film are the space panoramas, nebulae, planets etc...which is exactly what CGI is good at. Starships can be done well but here they are no better than their TV counterparts, satisfactory at best. There are still the age old issues of dodgy bluescreen going on but now they also have the added downside of completely fake CGI sequences on top. So apart from the dreadful plot and god awful CGI are there any plus points? I guess F. Murray Abraham does add a sprinkle of class onto the proceedings, its just a shame he does completely nothing of interest for the whole film. The alien race he portrays (Son'a) are such a generic concept with little to no imagination in design, their faces are simply plain grey just like all the uniforms of the Enterprise cre...zzzzz. So the film ticks along with tonnes of dialog including so much space jargon I felt completely bewildered and detached. I'm sure this one film has more Trek technical mumbo jumbo speeches than any other, by the end of the film I had actually lost how or what they were all suppose to be doing. Add to this some really vomit inducing romance with Picard, really hokey sets, really fake plastic looking props, hokey fights and the very annoying practically perfect farm civilisation in their typically 'I'm a goodie' beige/white loose fit garments. Yeah I know its a Star Trek film and you come to expect this kinda stuff but by this point I think certain aspects of this really should be better. The classic Trek crew were loved for their quirky comedic like adventures and Shatner's fluffy fist fights. The next generation crew just can't pull that off, they are too serious and too dull basically. For me they can't get away with the charming nonsense that the classic crew got away with. This film lacks punch and energy, its a complete non entity and in my opinion will only please Trekkies. For fans it basically has all you need as its pretty much a very long TV episode so you can't go wrong. For neutral non-fan folk it will be a slow arduous slog through some heavy dialog that will probably leave you dizzy whilst offering no reward at the end.
Phil Hubbs
Super Reviewer
½
Step down from the exciting First Contact, Star Trek Insurrection seems to try too hard at outdoing its predecessor, and in turn loses track of what it tries to accomplish. The result is a film that leaves a lot to be desired, and what do you expect? This is the ninth film in the Star Trek film franchise, and with that being said, it's clear that the screenwriters were trying to figure out how to create something new and exciting. Unfortunately, there is nothing to really grab your attention. Insurrection isn't an awful film, but it's a disappointing affair, especially after the superb First Contact. Overall this is a decent film, that is somewhat entertaining, but like I said, it never grabs your full attention, and it's a shame because the filmmakers could really have kept the momentum going, but it also seems they were a bit too overconfident with this one, and they seemed to try and outdo previous entries, and in a way they failed to capture the essence of what makes fort a truly entertaining and ultimately memorable Star Trek film. Overall I felt that this film was decent at best, and it never realizes its potential, but in the larger view of things, this is also the ninth film in the series, so it was only a matter of time for the quality to be downgraded due to lacking ideas in terms of storyline. Fans will surely find a lot missing from the film, and in terms of a Science Fiction picture, this one just leaves you wanting more. Decent film that definitely could have been reworked a bit before getting the green light, Insurrection is one of the weaker entries in the Star Trek franchise
Star Trek: Insurrection Quotes
| | |
| --- | --- |
| Captain Jean-Luc Picard: | Worf... Do you know Gilbert and Sullivan? |
| Lt. Cmdr. Worf: | I have not had a chance to meet all the new Enterprise crew members since I have been back. |
| Captain Jean-Luc Picard: | They're composers, Worf... |
| | |
| --- | --- |
| Cmdr. William Riker: | Riker: We are through running away from these bustards |
| Cmdr. William Riker: | We are through running away from these bustards. |
| | |
| --- | --- |
| Cmdr. William Riker: | Klingons never do anything small, do you? |
| | |
| --- | --- |
| Cmdr. William Riker: | Riker: You think it's possible for two people to go back in time, undo a mistake they've made? |
| Cmdr. William Riker: | You think it's possible for two people to go back in time, undo a mistake they've made? |
| Lt. Cmdr. Deanna Troi: | Troi:On this ship? Anything's possible... |
| Lt. Cmdr. Deanna Troi: | On this ship? Anything's possible... |