Star Trek IV - The Voyage Home
(1986)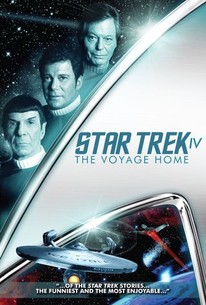 TOMATOMETER
AUDIENCE SCORE
Critic Consensus: Star Trek IV: The Voyage Home is perhaps the lightest and most purely enjoyable entry of the long-running series, emphasizing the eccentricities of the Enterprise's crew.
Star Trek IV - The Voyage Home Videos
Star Trek IV - The Voyage Home Photos
Movie Info
Star Trek IV: The Voyage Home (1986) concludes the story arc begun with Star Trek II: The Wrath of Khan (1982) and continued in Star Trek III: The Search for Spock (1984), but on a wholly new, different, and upbeat note. As the movie opens, months have elapsed since the events in Star Trek III; Admiral Kirk (William Shatner), McCoy (DeForest Kelley), Scott (James Doohan), Sulu (George Takei), Uhura (Nichelle Nichols), and Chekhov (Walter Koenig) are marooned in self-imposed exile on Vulcan, along with the resurrected and regenerated Spock (Leonard Nimoy, who also directed). While Spock tries to sort out the Vulcan and human halves of his resurrected psyche, the others prepare to return to Earth to face a brace of charges by the Klingon Empire and Star Fleet over events on Genesis. Taking off in their commandeered, jerry-rigged Klingon ship, they head to Earth, not knowing that a new crisis could destroy their home world -- a huge, immensely powerful alien probe has entered the galaxy and established a position near Earth, disabling every vehicle and installation in its path with its energy and communication output, and has ionized the entire atmosphere and started vaporizing the oceans, leaving the planet only hours to survive. Spock determines that the probe is sending out signals to another intelligent terrestrial life form, humpbacked whales, which no longer exist. Using the gravity slingshot time-warp effect (established early in the original series) to travel back into Earth's 20th century, Kirk and company land in 1980s San Francisco to try and bring humpbacked whales to the 23rd century, to respond to the probe. Thus starts a surprisingly breezy, light-hearted, yet serious odyssey through the past (comparable to the best work of the original series), as the crew learns to deal with exact-change buses, angry drivers, punk-rock enthusiasts and other elements of '80s life, and Kirk tries to persuade a scientist (Catherine Hicks) of his good intentions for two whales in captivity. The screenplay, co-authored by Steve Meerson, Peter Krikes, Nicholas Meyer, and Harve Bennett (from a story by Nimoy and Bennett), is the cleverest and most sophisticated of all the Star Trek movie screenplays, recalling some of the elements of Meyer's earlier time-travel movie Time After Time and also anticipating the feel and tone of the series Star Trek: The Next Generation (which would be on the air not quite a year later). Nimoy's direction offers a combination of brisk pacing and a deep love of the characters and the actors, as well as a serious appreciation of the humorous aspects of the script, and Shatner gives his best performance of any of the movies. ~ Bruce Eder, Rovi
News & Interviews for Star Trek IV - The Voyage Home
Critic Reviews for Star Trek IV - The Voyage Home
Audience Reviews for Star Trek IV - The Voyage Home
The voyage home is the return to the status quo now that Spock is back to the crew where he belongs, and this is the lightest of the Star Trek movies, a delightful yet not-that-original incursion into comedy with a hilarious dialogue and a very welcome ecological story.
Carlos Magalhães
Super Reviewer
This was the first Star Trek movie I saw at the cinema, and to top that I think I saw it whilst in the US of A too. So the story continues from where it left of in 'The Search for Spock' with Nimoy again at the helm. What can one say about this Trek outing, it certainly took a different route and clearly went for a more comedic approach. I believe this was the first movie to be set on Earth in the present day (at the time, 1986), I think that might also count for the TV series too. Was this the right approach? well maybe, I can't deny that the film is very entertaining with some well crafted family fun moments that make all the veteran actors even more endearing in their now historical roles. How can anyone fail to love these guys? look at Spock in his hippy outfit...hilarious right?...right?!! Quite literately old age pensioners in space (with Shatner and Doohan getting fatter by the sequel and Koenig's hair piece becoming more obvious) and still saving the Earth, what a team! So yes kudos for the alternate direction and some lovely amusing moments which can't fail to make you smile but... On the other hand did this film really do much to bolster Star Treks sci-fi rankings within the sci-fi hall of fame? I'm not so sure really, we all know Star Trek has that little niche of semi-serious logical sci-fi mixed with blatant fantasy but for me this plot just took one step too far. There is really only so far you can go before you have to step back and say hold on, and I think the whales went over that mark. Earth is in trouble (again), oh geez! A weird object in space that looks like a black cylinder connected to a football by a beam of intense white light is headed to Earth. Note the rather blatant '2001' obelisk clone conveniently changed to a cylinder...well that's what I think. Unsurprisingly this foreign object is draining everything of its power as they usually do. When in orbit around the Earth the object knocks out the global power grid and starts tearing the planets weather system apart...inadvertently. This alien thing is seemingly calling to humpback whales which are currently extinct in the year 2286 so the ageing crew simply decide to use a time warp into the past to casually pick up some humpback whales and bounce back to the their present before anyone knew they were there. Now is it me or is this premise just a tad beyond the realms of a reasonably sensible film? The last film saw a main character resurrected because they needed to keep the franchise going after the surprise blockbuster and now they can jump through time to fix problems...with whales, these guys can't be beaten! The story is indeed an ingenious creation (they do tend to come across a lot of unknown energy sapping problems don't they), a good message about the environment and endangered species but for me the time travel thing just never sat well. Its too convenient and renders the Enterprise crew almost insurmountable in any given situation. Problem? well we'll just pop back in time with a time warp and hocus pocus every things gonna be OK. Don't even get me started on how they managed to somehow transport these massive whales in massive tanks of seawater...Jesus! All that aside its a completely new breathe of fresh air to have the film set almost entirely on a planet surface, especially our own. This does infact render special effects almost obsolete for most of the film...almost. Being set on present day Earth (1986) Nimoy was able to do a lot more without worrying about the confines of space limitations and real science. This movie really felt like a far out comedic fantasy where anything goes and Earthbound visual gags were a tour de force. Naturally being set in the 80's you can't not have a gag utilising a stereotypical 80's punk...that's virtually an obligation. Alas there are still many many typically nasty Star Trek bluescreen shots, hokey sets, some hideously obvious whale footage crowbarred in and pretty obvious matte paintings. On the other hand you do still get a solid array of decent looking starship models and the ever lovely Earth Spacedock. We also get to see much more interior of a Klingon Bird-of-Prey ship which up to this point had never really been explored much. On the whole I did actually like the misty atmosphere of the ship, the dark green colour palette set against various red LED panel lights, it looked mean and aggressive. I can see why this did well upon release as its a fun film with a good message and happy ending. True it does feel like a long tourism advert for San Francisco and the humorous side makes the entire feature come across like something as daft as 'Crocodile Dundee...in space'. For me the plot has gone from generic in the last two films to completely outlandish in this film, such a sweeping change in concepts and tone! much suspension of disbelief required here. Yet much like the previous two films I neither overly dislike or overly like this fourth effort. Its a movie of its time, I accept it for what it is and the movie itself knows what its aiming for, so to that degree I can't really moan. It is a typical Star Trek plot...but one of the more stupid plots, the classic TV series always did have good and bad plots. I can't really score this very high because apart from the childish funny moments that are indeed sweet the rest is pure dodgy hokem that still doesn't really look any better than the last two movies (the original still looking the best at this point).
Phil Hubbs
Super Reviewer
½
Ambitious, exciting and memorable, The Voyage Home, being the fourth installment further the increasing quality in storytelling in the series, and is another good sequel that is directed yet again by actor Leonard Nimoy. Nimoy's direction is terrific and bring some much needed depth to the plot that makes it that much more enjoyable. There are hints of humor strewn throughout the film, and it complements the thrills and action perfectly. There are plenty of improvements in this entry, most notably the film's special effects and more layed back tone. I feel that the filmmakers were much more confident with this release, and it shows on-screen. The story is good, and the cast deliver some good performances. I really was surprised by this one, and like I said, it's an entertaining Science Fiction picture worth seeing, and it's a well crafted affair that is sure to delight fans. Nimoy does impressive behind the camera, and he helped make two outstanding films in the film adaptations of the classic TV show. It's rare for a fourth film in a series to be entertaining, but in the case of The Voyage Home, it's a highly engaging film going experience that manages to be amusing for a good two hours of entertainment. There are aspects that could have been improved upon, but overall, it's a solid sequel worth seeing and it's one that stands out among the franchise's very best films. This is a different type of Star Trek film, and it works well on many levels. With good performances, a well thought out story, and good direction, The Voyage Home continues the quality of good films in the series. This is one of the better movies I've seen, and though a bit different, is a refreshing idea that is thoroughly engaging.
Star Trek IV - The Voyage Home Quotes
| | |
| --- | --- |
| Janice Rand: | All underground storage systems are shut down due to contamination from the probes' wave. |
| | |
| --- | --- |
| Christine Chapel: | We need that power to keep the medical and emergency services functional. |
| | |
| --- | --- |
| Sarek: | As I recall, I opposed your enlistment in Starfleet. It is possible that judgement was incorrect. Your associates are people of good character. |
| Mr. Spock: | They are my friends. |
| Sarek: | Yes of course. Do you have a message for your Mother? |
| Mr. Spock: | Yes. Tell her, "I feel fine". |
| | |
| --- | --- |
| Leonard "Bones" McCoy: | Well... nobody's perfect. |