Star Trek - Nemesis
(2002)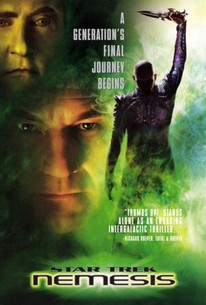 Star Trek - Nemesis Videos
Star Trek - Nemesis Photos
Movie Info
The tenth film in Paramount's highly lucrative sci-fi franchise is also positioned as the last for the entire original Next Generation crew. En route to the honeymoon of William Riker (Jonathan Frakes) to Deanna Troi (Marina Sirtis) on her home planet of Betazed, Captain Jean-Luc Picard (Patrick Stewart) and the crew of the U.S.S. Enterprise receive energy readings identical to those uniquely emitted by the positronic brain of android crew member Data (Brent Spiner). Upon investigation, they discover the disassembled parts of an identical android named B4, an early prototype of Data himself, now scattered on the surface of a remote world. As they reassemble B4, the crew receives word from Starfleet that a coup has resulted in the installation of a new Romulan political leader, Shinzon (Tom Hardy), who claims to seek détente with the human-backed United Federation of Planets. As commander of the closest starship to Romulus, Picard is ordered there to negotiate with Shinzon. Once in enemy territory, the captain and his crew make a startling discovery: Shinzon is human, a slave from the Romulan sister planet of Remus (the residents of which are vampire-like creatures that dwell on the perpetually dark side of their home world), and has a secret, shocking relationship to Picard himself. It soon becomes clear that Shinzon has lured the Enterprise to Romulus using B4 as bait and that his sinister ulterior motives include the destruction of Earth. A vicious battle between the Enterprise and Shinzon's powerful warship ensues, resulting in heartbreaking heroics and a devastating casualty. Star Trek: Nemesis was written by long-time Trek fan and Oscar-nominated screenwriter John Logan. Regular cast members Michael Dorn, LeVar Burton, Gates McFadden, and Whoopi Goldberg co-star with Ron Perlman, Dina Meyer, and Steven Culp.
News & Interviews for Star Trek - Nemesis
Critic Reviews for Star Trek - Nemesis
Audience Reviews for Star Trek - Nemesis
½
Here is the kiss goodbye from the TNG ensemble, although perhaps less than a kiss and more of a postcard. And so we are lead through this roadside museum/cafe/diner dedicated to the "the good ol' days', where nods are halfheartedly made to all the familiar and recognizable tropes of the television show, and all the nourishment offered is kinda old and lukewarm. Ho-hum. Warp out of here.
Kevin M. Williams
Super Reviewer
Even though it has an interesting premise, this is an awful conclusion for TNG and seems like a shameless rehash of The Wrath of Khan, only the villain is completely lame, with very stupid motivations, and the conclusion a pathetic cop-out for the entire series.
Carlos Magalhães
Super Reviewer
½
The final showdown for the next generation crew and FINALLY the Romulans get a chance to shine. Thing is they are overshadowed and pushed to the side by the Remans, guess the Romulans had to wait for the reboot. Sooo here we are again, Earth in danger from an alien race and Picard is also being abused by another alien race, again. First he's assimilated now he's being mentally tortured by his power crazed clone who wants his blood...literately, some days huh. I must admit I can't get my head around film responses at times, I've read this was looked upon negatively. Why? its actually a pretty good Trek adventure and possibly the slickest of the next generation films, maybe the best of the four. Certainly better than 'Insurrection' and 'Generations' and much more open for everyone instead of just the Trekkies, which is probably for the best if you think about it. Plot wise this is total Star Trek, exactly as you would expect with overblown ideas and fantastic notions of sci-fi. Its not original and its not gonna surprise you but at the end of the day it does the job and entertains for the run time. Hardy is the bad guy dressed in shiny black armour (and am I the only one who forgot all about him being in this?! I was like...hey that's Tom Hardy!), He's bald, he sounds like David Thewlis and he's unpredictable with bouts of sulky anger down to his young age, I presume that was intended. Put simply he was a darn good villain (finally) who was perfectly slimy enough to get under your skin, just what the franchise needed. The rest of the bad guys all look really decent too. The Reman makeup/prosthetics are excellent in fact, first really good Star Trek aliens I've seen to be truthful. OK they do look like a race of Nosferatu, in fact a bit too close really, almost a complete rip-off, but I must admit they look damn good, highly aggressive and imposing visually, kudos. Actually the bad guys in this film coupled with the nice makeup and regal work/designs on the Romulans completely steal the show from the Enterprise crew. We all know the next gen crew are dull but they pale in comparison to the villainy on screen here, I actually wanted the bad guys to win this, would of been much more interesting. It was also weak to see they finally got the balls to kill off one of the next gen crew (Data) only to basically have him survive on by introducing an earlier model. I could see that coming miles away, and of course Data conveniently manages to upload all his personal 'data' into the earlier model before he sacrifices himself. So basically Data was killed but low and behold the replica earlier model takes his place complete with all Data's personal memories and attributes, as if he had never left *groan*. As I said earlier this is easily the best looking of the next gen films, probably all the Trek films. Production values look high with pretty much everything in the film, all sets look quite swish with depth and a solid appearance. Picard and his crew look as boring as ever in their grey uniforms but as I said before both the Romulans and Reman outfits all look superbly crafted and border more on Star Wars quality. Space sequences look delicious as they tend to in these films but this time the starships look much better than before. Its mainly CGI as usual but clearly much sharper and with some good looking weight to them, still not quite up to Mr Lucas' spaceships but getting close, the cloaking effect still looks a bit dodgy. Must mention the rather sweet looking cityscape on Romulus at the start of the film, very much on form with another certain popular sci-fi fantasy, dare I say quite Naboo-ish. A big kudos to the death sequence of the Romulan Imperial Senate also at the start. The infection and fast decay shown is some of the best CGI mixed with real time model work I've seen. These effects really put the film in good stead showcasing a newer sexier Trek offering. I guess you could say this one film is merely an action film in Star Trek clothes and not exactly what Star Trek is all about. Where has all the exploration gone? the seeking out of new worlds and new civilisations etc...There is definitely more bias towards fighting, death, multiple laser blasting and even the obligatory action film 'car chase' sequence. But its hard to win with Star Trek, either its too flashy and gun-ho, not Trekkie enough for the core fans. Or its too dull and slow for everyone like some of the older Trek films or its too in depth for non core fans and more of a Trekkie treat fan film. Its not very original and is pretty much a cookie cutter production but what do you expect with Star Trek. Plenty of decent action in space and a bit on land with a moon buggy chase, some of the best effects so far (about time), great visual designs throughout with the usual high caliber imagination but maybe it loses the true Star Trek essence along the way? Entirely predictable to the last minute but ultimately very enjoyable like most of the good Trek adventures. Another good franchise bookend, this time for the next generation crew. It hasn't been as memorable as the classic crew films in my opinion but a valiant effort none the less.
Phil Hubbs
Super Reviewer
Star Trek - Nemesis Quotes
| | |
| --- | --- |
| Shinzon: | A victory of the echo over the voice |
| Shinzon: | A victory of the echo over the voice. |
| | |
| --- | --- |
| Kathryn Janeway: | "Jean Luc.... How would you like to take a trip to Romulus?" |
| Kathryn Janeway: | Jean Luc... How would you like to take a trip to Romulus? |
| | |
| --- | --- |
| Captain Jean-Luc Picard: | What it is to be human? To make yourself more than you are. |
| | |
| --- | --- |
| Data/B4: | Goodbye....(Fires phaser) |
| Data/B4: | Goodbye... [fires phaser] |