Star Trek V - The Final Frontier
(1989)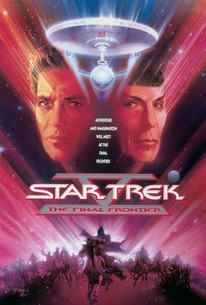 TOMATOMETER
AUDIENCE SCORE
Critic Consensus: Filled with dull action sequences and an underdeveloped storyline, this fifth Trek movie is probably the worst of the series.
Star Trek V - The Final Frontier Videos
Star Trek V - The Final Frontier Photos
Movie Info
Kirk (William Shatner), McCoy (DeForest Kelley), and Spock (Leonard Nimoy) are enjoying a vacation in Yosemite National Park when duty calls. Vulcan cult leader Sybok (Laurence Luckinbill) and his followers have invaded a "planet of peace," where delegates from hostile races coexist in a sort of intergalactic United Nations. Ordered to quell the crisis, the Enterprise crew discovers that it's a ruse perpetrated by Sybok, who takes over the ship, piloting it toward the "Great Barrier," an energy field at the galaxy's rim. Sybok, who is revealed to be Spock's half-brother, possesses the ability to help people face their "inner pain." He also believes that God lies beyond the Great Barrier. Once arriving there, however, Sybok and the Enterprise crew discover only an imprisoned alien entity. Shatner wrote the story and made his directorial debut with the film, failing to ape the success that his colleague Nimoy enjoyed with his pair of Trek directing forays. ~ Karl Williams, Rovi
News & Interviews for Star Trek V - The Final Frontier
Critic Reviews for Star Trek V - The Final Frontier
Audience Reviews for Star Trek V - The Final Frontier
While considered by many as the worst of the Star Trek films - and it certainly does have problems -, The Final Frontier is rather enjoyable and has some memorable moments that only fail to raise it to a higher level due to a clear lack of better polishing.
Carlos Magalhães
Super Reviewer
½
I remember when this was released many people thought it was the old crews final film due to the title. Then once people had seen it most thought that maybe it would be best if it was their final film...zing! But seriously they did. This fifth adventure starts off on a good note with some nice sequences. A short intro with the main antagonist on the sandy world of Nimbus III which looks good (sandy desert like worlds always seem to look good in sci-fi films). Then its straight into some good old fashioned soppy Star Trek humour courtesy of Kirk, Spock and Bones as they enjoy their leave in Yosemite National Park. I can't deny that rock face climbing sequence was pretty amusing and virtually the highlight of the entire movie! Following that we get a brief intro back on board the [i]Enterprise[/i] where everything is in the process of being fixed as its not working too well. Obviously this is the cue for Scotty to huff n puff with frustration at the circumstances yet we all know full well he will fix absolutely everything with time to spare. God bless that light-hearted Star Trek nonsense. After this pleasant start which all point towards the beginning of a good fun film things take a bit of a nosedive. Basically there is no real plot here and little explanation for anything. Oh OK, Sybok wants to hijack the Enterprise and use it to find the mythical planet of Sha Ka Ree...yes you read that right and I spelt it right. This planet is at the centre of the galaxy and is supposedly where all creation began...highly doubtful I would imagine seeing as there are millions of galaxies beyond our own. Why don't the crew ever venture outside our Milky Way galaxy and explore another? now that would be exploration alright. Renegade Vulcan Sybok isn't really explained at all unless you count Spock's brief flashback where we are given more big news that he and Spock are half brothers. We have no reason for his religious crusade, where he came from or how he ended up on Nimbus III. There is also no explanation for Nimbus III, its inhabitants, its name (the planet of galactic peace?), why there are horses from Earth on it and why exactly everyone is on Sybok's side. Beats the Dinks outta me! It also kinda amused me that originally Shatner wanted Sean Connery to play Sybok but for whatever reasons he declined. Thusly we have the mysterious Laurence Luckinbill who just happens to look very much like Sean Connery with a beard. I mean really Shatner...OK you wanted Connery and he said no, you didn't have to use another actor that looked like a poor mans Sean Connery, surely it wasn't that necessary. Of course the main issue here is the fact they all run off looking for God at the centre of the galaxy. Personally I really can't think of a more risky idea than this! apart from possibly alienating a huge amount of the audience who will have their own religious views and beliefs that are sure to conflict. The flip side is you know straight away they won't actually find God as how could a sci-fi film proclaim what God would look, sound or behave like. How could the film makers preach or force their own beliefs and ideals of God on a world where there is such religious diversity. So right away you know the plots outcome and thusly the film becomes pointless. On top of that the obvious alien creature/power (that isn't God) which they come across is not explained. No idea what it may have been, what it wanted, how it lead them to believe it was the one true God etc... Another issue that bewilders me with the Star Trek film franchise is how or why the special effects seem to have gotten worse as the sequels progressed. As discussed in my review the first film really did have an epic feel to it with some beautifully sweeping model shots, but this fifth entry really does look dire. As usual we get more dodgy looking bluescreen shots and yet more hokey looking shaky sets which I have come to accept (sign of the franchise I'm afraid). The actual models are sound and are clearly well made but it just looks as though the act of putting them on film has been rushed. From what I've read it does appear things were done as cheaply as possible and without the best folk available. To be honest you expect a lot more from a huge franchise and its fifth sequel. So a very silly choice of plot which could of completely back fired (amazed it didn't), plus it has too many similarities to the first Star Trek film with the V'Ger story. Dull pacing, poor effects, weak characters and the rather creepy and definitely un-sexy fan dance by the aged Uhura was also a bit ewww. Not much really happens in this film after the events on Nimbus III in my humble opinion. Its a very mediocre outing throughout with a very predictable anti-climactic finale which almost killed off anymore adventures for the original cast for good. Striving for glory clearly...but alas a supreme failure on all accounts truth be told.
Phil Hubbs
Super Reviewer
½
The Final Frontier is a decent film, one that leaves a lot to be desired for Trek fans, and here I felt that the film's script was just stitched together too quickly in order to create a follow up to The Voyage Home. Now this isn't an awful film, but it could have been improved upon. I find this entry to be not that bad, but it definitely could have been reworked to make the film standout a bit more. Compared to the previous outings in the series, The Final Frontier will surely divide fans. One reason is for the fact that the story is not that interesting, and the performances are a bit flat. The story itself is sketchy and quite frankly ridiculous, and it makes you question what they were thinking when they green lit the project. There were effective ideas here, but they never really take off, and the film's potential is squandered on a poorly written script, and the end result is one of the weakest films in the franchise. Like I said, I thought it was decent, but it also lacked the sense of wonder, excitement, and adventure than the other films possessed. Fans of the series will surely be disappointed in this fifth film, and you'll want more out of the film by the time the credits roll. If the film's plot would have been improved upon, and the cast would have put a bit more effort into their performances, then The Final Frontier would have been a much better outing than what it turned out to be. I expected much more out of this film, and it's a shame that on-screen result is a decent affair that makes you expect more. The film's flaws are simply due to the fact that the filmmakers simply didn't care about how the film turned out, and they really should have put much more effort into crafting a better story.
Star Trek V - The Final Frontier Quotes
| | |
| --- | --- |
| Leonard "Bones" McCoy: | God I liked him better before he died! |
| | |
| --- | --- |
| Leonard "Bones" McCoy: | Jim, you don't ask the Almighty for his I.D. |
| | |
| --- | --- |
| James T. Kirk: | Prepare for emergency landing plan.. B. |
| Pavel Chekov: | What's "Emergency Landing Plan B"? |
| Montgomery "Scotty" Scott: | I haven't got a clue... |
| James T. Kirk: | B, as in barricade! |
| Montgomery "Scotty" Scott: | He can't be serious... |
| | |
| --- | --- |
| James T. Kirk: | All I ask for is a tall ship, and a star to steer her by... |
| Leonard "Bones" McCoy: | Melville. |