Star Wars: Episode II - Attack of the Clones
(2002)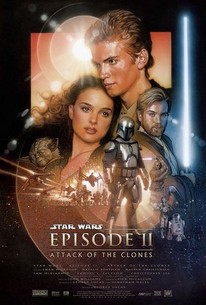 TOMATOMETER
AUDIENCE SCORE
Critic Consensus: Star Wars Episode II: Attack of the Clones benefits from an increased emphasis on thrilling action, although they're once again undercut by ponderous plot points and underdeveloped characters.
Star Wars: Episode II - Attack of the Clones Videos
Star Wars: Episode II - Attack of the Clones Photos
Movie Info
The second prequel to the original Star Wars trilogy takes place ten years after the events depicted in Star Wars: Episode I -- The Phantom Menace. Now 20, young Anakin Skywalker (Hayden Christensen) is an apprentice to respected Jedi knight Obi-Wan Kenobi (Ewan McGregor). Unusually powerful in the Force, Anakin is also impatient, arrogant, and headstrong -- causing his mentor a great deal of concern. The pair are ordered to protect Padme Amidala (Natalie Portman), the former queen of the planet Naboo, now representing her world in the Galactic Senate. Someone is trying to assassinate her on the eve of a vote enabling Supreme Chancellor Palpatine (Ian McDiarmid) to build a military force that will safeguard against a growing separatist movement led by mysterious former Jedi Count Dooku (Christopher Lee). After another attempt on Padme's life, Obi-Wan and Anakin separate. The young Jedi and Padme fall in love as he escorts her first to the security of Naboo and then to his home world of Tatooine, where the fate of his mother leads him to commit an ominous atrocity. Meanwhile, Obi-Wan travels to the secretive planet Kamino and the asteroid-ringed world of Geonosis, following bounty hunter Jango Fett (Temuera Morrison) and his son, Boba (Daniel Logan), who are involved in an operation to create a massive army of clones. A vicious battle ensues between the clones and Jedi on one side and Dooku's droids on the other, but who is really pulling the strings in this galactic conflict? In late 2002, the movie was released in IMAX theaters as Star Wars: Episode II -- Attack of the Clones: The IMAX Experience, with a pared-down running time of 120 minutes in order to meet the technical requirements of the large-screen format. ~ Karl Williams, Rovi
Critic Reviews for Star Wars: Episode II - Attack of the Clones
Audience Reviews for Star Wars: Episode II - Attack of the Clones
this movie has some great action sequences to look at and the effects are great and spectacular to see, when i was little i couldn't get enough of the last 45 minutes because its just all out war and fighting with the clones, Jedi, droids, genosians, ships, Sith, weird creatures, its freaking crazy but that's what i love about it, its intense and awesome to watch.
Michael Edwards
Super Reviewer
½
Somehow slightly going backwards on things that the first prequel completely failed on, "Star Wars Episode II: Attack of the Clones" is not is any way a good film. We follow a grown up Anikin Skywalker as he becomes stronger and understands the ways of the force. This is the middle chunk of this story, where we begin to see the dark side of Anikin, and a foreshadow of his soon-to-be future. Again, poorly scripted, sloppy camerawork, and a dumb plot, with great visuals and very entertaining battles sequences. This film still fails in ways that I wish were different, but at least it's fun to laugh at this instalment. In the end, It's nothing special at all and quite frankly, this is arguably the worst in the entire franchise. Just an awful addition to the franchise, even by the prequel standards.
Attack of the Clones, like Phantom, suffers from bad writing and awkward acting. The film improves in its final 15 minutes, however, with engaging action sequences.
Matthew Samuel Mirliani
Super Reviewer
Star Wars: Episode II - Attack of the Clones Quotes
| | |
| --- | --- |
| Anakin Skywalker: | Don't be afraid. |
| Padmé Amidala: | I'm not afraid to die. I've been dying a little bit each day since you came back into my life. |
| Anakin Skywalker: | What are you talking about? |
| Padmé Amidala: | I love you. |
| Anakin Skywalker: | You love me? I thought that had decided not to fall in love--that we would be forced to live a lie and that it would destroy our lives. |
| Padmé Amidala: | I think our lives are about to be destroyed anyway. I love truly, deeply love you, and before we die I want you to know. |
| | |
| --- | --- |
| Obi-Wan Kenobi: | Blast! This is why I hate flying! |
| | |
| --- | --- |
| Yoda: | Victory? Victory you say? Master Obi-Wan, not victory. The shroud of the dark side has fallen. Begun, the Clone War has. |
| | |
| --- | --- |
| Anakin Skywalker: | I don't like sand. It's coarse, and rough, and irritating, and it gets everywhere. |