Starcrash
(1979)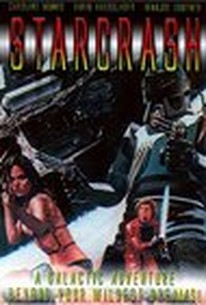 Movie Info
Italian schlock-master Luigi Cozzi (billed as Lewis Coates here) directed this low-budget Star Wars rip-off in 1978, right when the sci-fi craze was hitting audiences on a world-wide scale. The story begins familiarly enough, with a huge spaceship tracking through an extremely colorful space scene while under attack by some kind of unknown and deadly force resembling a lava lamp. Being no match for the '60s acid-flashback rays, they manage to jettison a few escape pods just before being blown to kingdom come. Fast forward now to the other end of the galaxy, where we find the best smugglers in town -- gorgeous Stella Star (Caroline Munro) and space-pimp Akton (Marjoe Gortner) -- outrunning a band of cops on their tail. Eventually, they're caught, taken into custody, and sentenced to intense Labor Camps, where Stella is forced to wear a skimpy Barbarella-like outfit by the extreme, merciless guards. A break-out ensues, and in the intense laser shoot-out, Stella manages to escape, only to be captured again by the semi-green-skinned Thor (Robert Tessier) and his annoying southern-drawled robot, Elle (voiced by genre veteran Hamilton Camp). Brought in front of the Emperor of the Galaxy (Christopher Plummer) and reunited with Akton, the sexy duo find themselves suddenly in charge of finding Prince Simon (David Hasselhoff). Thus begins the heroes' amazing adventure through space and time as they search for Hasselhoff and end up fighting Amazons, Cavemen, and the Evil Count Zarth Arn (Joe Spinell) along the way. ~ Jeremy Wheeler, Rovi
Critic Reviews for Starcrash
Audience Reviews for Starcrash
Well, what is there to say about the craptastic Starcrash that hasn't already been said? I just saw this from a ripped VHS and I'm so glad that I did. The experience was much better and it felt like a genuine discovery. This Italian Star Wars, which is how I like to think of it, is about as much fun as riding a mechanical bull. It's pretty dumb but damn is it enjoyable. The atrocious acting, the horrible dialogue, the bad costumes & props - just everything. And it's ALL a rip-off of Star Wars. As a matter of fact, I would go so far as to say that this is much more enjoyable than the Star Wars prequels. I also kept thinking in the back of my mind while I was watching it that it had all the trappings for a porno, and it certainly looked like one. It's too bad they didn't go that route, hmm. Marjoe Gortner is hilariously bad, as is Caroline Munro. The film seems to be billed under the appearance of a young David Hasselhoff, even though he doesn't show up until halfway through the film. Caroline Munro and Joe Spinell would go on to make the horror classic Maniac a couple of years later, leaving this film in the dust. In short, Starcrash is one of the crappiest sci-fi Z movies that you're ever likely to see.
Tim Salmons
Super Reviewer
One of the worst sci-fi movies of the decade, it stars actors who aren't usually in sci-fi movies anyway, the story is less than average, and the style is obviously taken directly from Star Wars. I'd say stay away from this one.
So this is probably one of the worst sci-fi films made haha and I don't think it was suppose to be with a cast including Christopher Plummer and David Hasselhoff. Sure they weren't big stars back then, well Plummer may have been known, but this is suppose to be a reasonably serious flick, an equal or challenge to the mighty Star Wars perhaps? maybe Plummer thought this could be his sci-fi moment of glory? alas it was not to be. The effects are terribly bad and full of inconsistant space battles, costumes are your typical nasty shiny 'Flash Gordon' camp affair, the sets are all flashy neon lights and the acting is rather below standard hehe One or two models and costumes (mainly the robot) aren't too bad and Munro in her sexy skimpy space bikini is nice but apart from that its really pretty awful.
Phil Hubbs
Super Reviewer
Starcrash Quotes
| | |
| --- | --- |
| Akton: | You would have tried to change the future, which is against the law. |
| | |
| --- | --- |
| Thor: | Stop! No one can survive these deadly rays!" |
| Thor: | Stop! No one can survive these deadly rays! |
| | |
| --- | --- |
| The Emperor: | "Imperial Battleship, halt the flow of time!" |
| The Emperor: | Imperial Battleship, halt the flow of time! |