Stardust
(2007)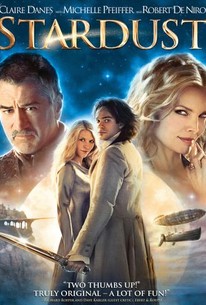 TOMATOMETER
AUDIENCE SCORE
Critic Consensus: A faithful interpretation that captures the spirit of whimsy, action, and off-kilter humor of Neil Gaiman, Stardust juggles multiple genres and tones to create a fantastical experience.
Movie Info
The sleepy English village of Wall is so named for the cobblestone wall that has, for eons, kept the villagers safely apart form the supernatural parallel universe that lies just on the other side. It is here that young Tristan Thorne makes a wild-eyed promise to the prettiest girl in the village, whose heart he hopes to win: that he will bring her back a fallen star. Now, in order to make good on his promise, Tristan will have to cross the forbidden wall, and enter a mysterious kingdom lit by unending magic and unfolding legends. In this fantastical realm known as Stormhold, Tristan discovers that the fallen star is not at all what he expected but a spirited young woman injured by her cosmic tumble. Now, she is in terrible danger--sought after by colossal powers including the King's scheming sons for whom only she can secure the throne; and a chillingly powerful witch desperate to use the star to achieve eternal youth and beauty. As Tristan sets out to protect the star and bring her back to his beloved on the other side of the wall, he encounters with a pirate captain and a shady trader, among other surprises. But if he can survive, Tristan will also uncover the secret key to his own identity and a fate beyond his wildest dreams.
News & Interviews for Stardust
Critic Reviews for Stardust
Audience Reviews for Stardust
An average fantasy but: sweeping photography of panoramic vistas aplenty, a collection of ghosts adding Greek chorus commentary about the action, and Michelle Pfieffer's glorious head witch.
Kevin M. Williams
Super Reviewer
Whimsical, fantastic, and mythical only in the way Neil Gaiman can write it. This adaptation from his book of the same name is perfectly fun and romantic. It's a mix between "The Princess Bride" and "Ella Enchanted," a film that evokes childhood fairytales as well as the adult nature of the original Grimm's Fairytales. There's every number of characters, including witches, sky pirates, warring princes, and a fallen star turned beautiful young woman. With stunning visuals, catty humor, and a lovable romantic pair this is a must-see film for all ages. The main problems I had with the film was the strange, slightly homophobic humor of Robert De Niro cross-dressing and putting on a "sissy" voice, and the complexity of the plot, which could have been better condensed for the film adaptation. Otherwise this was a fun, magical journey.
Spencer S.
Super Reviewer
Successful film franchises cast a long shadow. If you directed an adventure film or a sci-fi film in the 1970s and 1980s, you were effectively inviting comparisons with Star Wars and Indiana Jones. What is most successful on a grand scale often becomes the benchmark for other films in that genre, regardless of whether or not the benchmark is a particularly good one. In the same way, every fantasy film produced in the 2000s is in some way putting itself in competition with Harry Potter and The Lord of the Rings. There have been many attempts on both sides of the Atlantic to recapture the success of these franchises, or to plug the gaps between instalments, as was the case with Percy Jackson. Stardust is one of the better offerings in this period, beginning in a decidedly ropey fashion but eventually soaring into something distinctive and heartwarming. The first notable aspect of Stardust is the talent behind it. The film is based on the novel by Neil Gaiman, one of the most admired and acclaimed fantasy writers of our time. The screenplay is co-written by Jane Goldman, who would later do a sterling job of adapting The Woman in Black for Hammer. And it is directed by Matthew Vaughn, who had changed Daniel Craig's career with Layer Cake and would later helm the cult classic Kick-Ass. Unfortunately, and in spite of this prestige, things don't get off to a very good start. The opening act of Stardust is a very televisual affair: it feels like a posh costume drama with a marginally bigger budget, whose story unfolds at the leisurely pace of an episode of Cranford. It's very common for fantasy films to set up a sleepy home which our heroes eventually leave to go on their journey - Privet Drive, Hobbiton and so forth. But with Wall we don't get a sense of scale or of anything magical lurking just around the corner. It feels, in other words, a little too small and ordinary. This televisual feel is exacerbated by the casting. While the film boasts a handful of established film talents, like Michelle Pfeiffer, Mark Strong and Robert De Niro, most of the supporting cast are drawn from British TV comedy. Mark Heap, Julian Rhind-Tutt and Adam Buxton are all very talented comic actors, but their scenes feel more like a bizarre Channel 4 sitcom than a full-blown fantasy epic. The main cast fall victim to this too, with Charlie Cox struggling to shake off his performance in Bleak House and taking a long time to bed in as our hero. Aside from its creaky, televisual opening, the narrative of Stardust is rather ramshackle. While The Lord of the Rings saw multiple plot strands growing out of the central journey of the fellowship, this film juggles up to four competing strands from the outset: Tristan's journey with Yvaine, the witches' hunt for the star, Tristan's mother being held prisoner by another witch, and the brothers fighting for the crown. This is probably the result of compression on the part of Goldman and Vaughn, and while all the sub-plots do eventually come together, for a lot of the running time we're confused as to whom the main focus should be. Like many fantasy films of the period, Stardust does contain some derivative touches. Ian McKellen's narration is a clear attempt to capture the gravitas that he and Cate Blanchett lent to The Lord of the Rings, but it is largely perfuctory to the storytelling and not as well-written as the speeches in Peter Jackson's films. The central dynamic between Tristan and Yvaine is like Starman with the genders reversed, so that now it is a male protagonist helping to familiarise a female alien with how the world works. Other touches, such as the goat being turned into a man, find the film settling for fantasy convention in itself rather than trying to put its own distinctive stamp on it. If we approach Stardust is a deadly-serious fantasy epic, it will end up falling short of our expectations. Even though it boasts the same certificate as The Lord of the Rings, it's written more consciously with a family audience in mind and thereby lacks some of Tolkien's compelling darkness. But if we view it in a broader sense, as a more modest fantasy romance with comedy elements, it gradually begins to make sense and eventually comes through with the goods. Even with all its narrative shortcomings, the film is very funny from start to finish. After a while the gallery of British talent stops being distracting as Vaughn allows each of them to play to their strengths; even Ricky Gervais' cameo is pretty good fun. The physical humour is well-executed, the bitching between the central couple is believable, and the whole film has a playful, mischievous quality which prevents any of its mythology from sounding po-faced. The real highlight in this regard, however, is De Niro. He's been parodying himself in various ways since the late-1990s, with his roles in Meet The Parents and Analyse This among others sending up either his meticulous preparation or the kinds of roles he has gravitated towards. Captain Shakespeare is a man who wishes to appear tough and macho for his men, but who secretly dresses in drag and is altogether rather charming. It's an endearing characterisation, and the can-can scene is one of the funniest moments. As the humour builds and finds its feet, so too does the power of the central romance. For all its fantasy trappings, Stardust is ultimately a film about finding love in unexpected places, with both protagonists having a degree of naivety or innocence about them. Tristan is naive having never set foot outside of Wall, while Yvaine has seen mankind suffer and flourish from afar but never been close enough to completely understand them. Their relationship is the meeting of two worlds in understanding and harmony, and the final act is very heartwarming. The screenwriters deserve credit in this regard for maintaining the agency of the female characters, something which fantasy cinema has often struggled to do. Yvaine may spend much of her time trying to escape imprisonment, but she is ultimately resourceful and independent, and ends up saving Tristan's life. Likewise, Pfeiffer's witch is cunning, ambitious and strives to get what she wants under her own steam rather than expecting others to do it for her. This makes the final confrontation between the two more potent and gives the film something of a unique identity. Stardust is a very enjoyable family fantasy which compensates for its shaky start with a growing sense of heart and a lot of good-natured laughter. It's hardly the most ground-breaking or original work, nor is it a candidate for the best Gaiman adaptation. But it deserves a lot of praise for the elements which do come together, and which result in a film which is genuinely for everyone.
Daniel Mumby
Super Reviewer
Stardust Quotes
| | |
| --- | --- |
| Humphrey: | You just bought yourself a death wish. |
| | |
| --- | --- |
| Narrator: | They ruled for 80 years. But no man can live forever, except he who possesses the heart of a star, and Yvaine had given hers to Tristan completely. When their children and grandchildren were grown, it was time to light the Babylon Candle. And they still live happily ever after. |
| | |
| --- | --- |
| Yvaine: | You've got a Babylon candle. |
| Tristan: | Yeah, I have a bubbling candle. |
| Yvaine: | A *Babylon* candle. |
| Tristan: | That's what I said. |