Stargate: Continuum
(2008)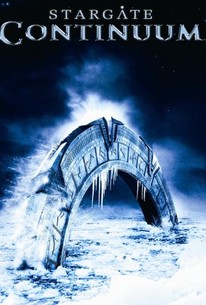 AUDIENCE SCORE
Critic Consensus: No consensus yet.
Stargate: Continuum Photos
Movie Info
The Stargate saga continues as an elite military unit races back to Earth following the mysterious disappearance of two key team members, only to find themselves in an alternate reality where the Stargate has never been invented. Somewhere in deep space, the SG-1 team is in serious trouble. Two team members have vanished without a trace, and now the SG-1 unit's only hope for survival is to get back to Earth as quickly as possible. Upon touching down the team is relieved to be home, but deeply disturbed to learn that the reality they just returned to isn't the same one they departed from. In this reality, the Stargate has never been discovered and neither the government nor the military has never even heard of the SG-1 unit. But who altered the Earth's timeline, and why? Upon discovering that a malevolent alien known as Ba'al has been meddling with the planet's timeline in an attempt to conquer Earth, the team must race against time to defeat the most powerful adversary that they have ever faced.
News & Interviews for Stargate: Continuum
Critic Reviews for Stargate: Continuum
All Critics (1) | Fresh (1) | Rotten (0) | DVD (2)
A willingness to color outside the norm of the Stargate universe is what makes this so much better than the usual Stargate SG-1 episode.
July 30, 2008 | Rating: 3.5/5
Audience Reviews for Stargate: Continuum
½
This is unlike Stargate SG-1 TV series, it is a little more self-contained and is easily accessible for me that I have never watched the series - only season 6 to 10. I see a lot of old faces including Richard Dean Anderson from TV series pop up in this one!
Dean McKenna
Super Reviewer
The SG-1 series may be over, but new material keeps coming out. Stargate: Continuum is the second motion picture after the series finale and once again, SG-1 fans will be pleased.
As usual, familiarity with the show is a huge must because there is no character background or even story history. The film jumps right into its own plot with the expectation that the viewer knows the background of the series. Does one need to be an aficionado? No. Just the general basics will do. The show will explain just a few things to help out.
Stargate and time travel. 2 fantastic concepts come together to form this motion picture. Time travel alone can create an interesting plot and it does once again here. The nice thing about the story is that it isn't all that difficult to follow. There is good enough explanation to explain the events of meddling with time travel and while not everything is given an exact answer, there are Carter's theories that are enough to satisfy the question.
The earlier parts of the plot are all character and story, with the time spanning over 1 year. Any SG-1 fan will not worry because the story is far from boring. Besides, the action comes out to play in the latter parts with some great CG and air battles reminiscent of Independence Day
The cast is all intact once again with appearances from Richard Dean Anderson and Don Davis to top things off. I will also add that Claudia Black just looks yummy in her Quetesh outfit. There is even a cameo from good ol' Ra.
Stargate: Continuum is a movie made for SG-1 fans and it will be a shame for those that pass this up. It is a most excellent watch.
½
Excellent! They manage to bring most of the folks from the SG-1 universe in here for small cameos plus give us a massive story that gives us the feel of many episodes from the previous seasons. Time travel...check! Jack... check! Mind blowing story... indeed!
Jason Spencer
Super Reviewer
Stargate: Continuum Quotes