Stark Raving Mad
(2002)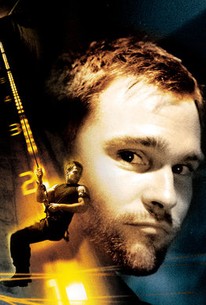 Movie Info
The writing/directing team of Drew Daywalt and David Schneider are responsible for the straight-to-video heist comedy Stark Raving Mad. Seann William Scott plays Ben McGewen, a guy who needs to pay off some major debts. Mostly he needs to pay the crime lord Gregory (Lou Diamond Phillips), the gangster who killed his brother. Ben gets the idea to throw a big rave in a club next to a bank vault. According to plan, the loud music and party atmosphere will disguise the fact that he and his gang (Timm Sharp, Patrick Breen, John B. Crye, and Suzy Nakamura) are breaking through the wall. Once inside the vault, they will steal a valuable statue and Ben will revenge his brother's death. This being a heist comedy, however, things don't go exactly according to plan. Dave Foley and Kavan Smith play a couple of pesky FBI agents. Alan Arkin plays cranky club owner Don Partridge.
News & Interviews for Stark Raving Mad
Critic Reviews for Stark Raving Mad
All Critics (5) | Top Critics (1) | Fresh (1) | Rotten (4) | DVD (5)
...who thought it was a good idea to set the entire movie inside a dance club?...
Stark Raving Mad is a great comedy and one of the better recent heist flicks; more importantly, it's one of the best direct-to-video movies I've seen lately.
Audience Reviews for Stark Raving Mad
Just insane...crazy and insane in so many ways that the heist seemed to be the best part of the whole movie! Not worth my time reviewing like it wasn't worth my time watching...period. Oh...the stars? One for Lou Diamond Phillips...and one for Seann William Scott...both kept me fairly interested throughout the whole flick!
Fascade Fiveoneeight
Super Reviewer
Endless fast cuts complete with whooshy sound effects, thumping techno bass lines, ugly on-screen graphics, garish colour filters, and *cringe* a hero who talks directly to camera (Michael Caine is STILL the only actor to EVER get away with that...) Every tacky, irritating and superficial MTV affectation is on display here, in an unbelievably lame attempt to make an american rip-off of a Guy Ritchie heist movie. The result is more like a bad sit-com complete with wacky gangsters and S&M transvestites. Not an original idea in sight.
Stark Raving Mad Quotes
There are no approved quotes yet for this movie.