Starred Up
(2014)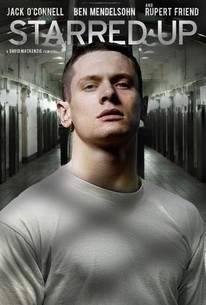 Movie Info
19-year-old Eric (Jack O'Connell, star of the upcoming UNBROKEN), arrogant and ultra-violent, is prematurely transferred to the same adult prison facility as his estranged father (Ben Mendelsohn, THE DARK KNIGHT RISES). As his explosive temper quickly finds him enemies in both prison authorities and fellow inmates - and his already volatile relationship with his father is pushed past breaking point - Eric is approached by a volunteer psychotherapist (Rupert Friend, "Homeland"), who runs an anger management group for prisoners. Torn between gang politics, prison corruption, and a glimmer of something better, Eric finds himself in a fight for his own life, unsure if his own father is there to protect him or join in punishing him. Written by prison system therapist Jonathan Asser, STARRED UP is a merciless, uncompromising portrayal of a dehumanizing life behind bars, and the most accomplished film of David Mackenzie's career; as father and son, Mendelsohn and O'Connell give extraordinary performances, charting a path that resembles Greek tragedy. (c) Tribeca Films
News & Interviews for Starred Up
Critic Reviews for Starred Up
Audience Reviews for Starred Up
Written by an actual therapist following his own experiences, this gripping drama offers an extremely realistic view of prison that makes us feel like watching a documentary, and it is brutal and touching when it needs to be, anchored by superb performances (O'Connell is a revelation).
Carlos Magalhães
Super Reviewer
Starred Up is extremely solid. The validity of Jonathan Asser's screenplay comes through in every scene. Not just in handling the atmosphere with sincerity, but for extracting genuine emotion. Ben Mendelsohn and Jack O'Connell are extraordinarily good. Their interaction is infused with subtlety and nuance. As his estranged father, Nev tries to give his son some life lessons to help him from becoming a permanent resident there. It's a real father-son relationship as opposed to a metaphorical one. I haven't seen that before. They act the roles to perfection. I suggest a primer on British prison slang prior to watching, however, starting with that title. Starred up refers to young offenders whose conduct is so violent that they're prematurely transferred from a juvenile institution to an adult one. Gwap is money, prison officers are kangas, and to mug off is to show disrespect. All of this makes the dialogue a little inscrutable, but I wouldn't have it any other way. The authenticity is appreciated and it adds to what makes Starred Up the credible drama that it is. fastfilmreviews.com
Mark Hobin
Super Reviewer
½
"Starred Up" starts with 19-year old Eric Love(Jack O'Connell) being assigned to a new prison. He soon gets settled in, as he makes a shiv and hides it in a light fixture. That comes in handy when Eric mistakes a fellow prisoner's gesture of kindness for a possible assault. After which, things go from bad to insanely worse after Eric attempts to bring him to the infirmary. Saving him from a long, long time in solitary is Oliver Baumer(Rupert Friend), a, counselor, who gets him assigned to his group therapy session which is very closely obvserved by Neville(Ben Mendelsohn), an older prisoner. "Starred Up" works best when it is subversive, subtly turning the narrative on its head. That starts through a measure of Kubrickian austerity with a question about whether some people like Eric are truly incorrigible and should just be dropped in a deep, dark hole and forgotten about. But over time, the circular narrative gradually and carefully hands out information that evolves the situation and brings more critical attention to the guards who like the chief criminals seek order in the prison, even with the constant potential of brutal violence. As an example of how not exactly dumb he is, Eric gives a speech highlighting this long before it becomes an issue, just as masculinity is also examined underneath a magnifying lens here. But the movie's climax undermines some of the realism when it strains credibility to the breaking point.
Starred Up Quotes
There are no approved quotes yet for this movie.