Starship Troopers
(1997)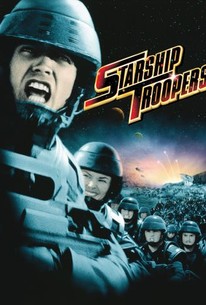 Movie Info
Paul Verhoeven has fashioned a visually spectacular, morbidly funny comic book adventure that seems to merge the fresh-faced youths of the Archie Comics with the save-the-planet mandate of ÒBuck Rogers.Ó
Critic Reviews for Starship Troopers
Audience Reviews for Starship Troopers
½
The epitome of the cheesiest 90's action movie of all time. The entire tone, acting, style, and script was so cheesy that no gratuitous amount of blood, or "cool" looking action scene was able to redeem this junky movie.
Starship Troopers is one of those films that blends elements of Science Fiction, horror and comedy. The film is directed by Paul Verhoeven, director of Robocop. Starship Troopers is a visual feast on the eyes as a war between bugs and humans wages on. The film is heavy on special effects and it has a heavy dose of humour thrown in to soften the mood. With a film like this, you must not take the film so seriously therefore Verhoeven's use of humour is timed perfectly well. In the end Starship Troopers is simply just an action packed sci fi horror film with tongue in cheek moments. The end result is very well done and Starship Troopers is a terrific accomplishment in the genre. If you enjoy a different type of sci-fi film, then this one is for you. The film is very different from Robert A. Heinlein's book of the same name. Despite the fact that this is a different film from what the book is, Starship Troopers is a well crafted, cheesy popcorn action sci fi horror flick. The best performance of this film is Michael Ironside. The rest of the cast is decent, never anything good or memorable. There aren't any characters that you can relate to, so you don't really care if they live or die. The best way to describe this film is 90210 in outer space. Still for what it is, this is a mindless action horror romp that delivers effective blood, gore and a good time. This film stands out because it's over the top, and shocking. Hell, Starship Troopers is ridiculous, but that's what makes this film worth seeing in the first place.
½
Highly underrated sci-fi adventure, that delivers some of the coolest and most exciting battle sequences ever made for the big screen. Just the fact that I've seen it about ten times by now should speak for how much I love it. What makes it so special and outstanding is that, unlike most other films within the genre, it actually has some genuine intelligence to it. Okay, so it's not Oscar-material script-wise, but it's got such an incredibly cool and exhilarating story, while cleverly satiring political propaganda films (like those produced by the Nazis during WWII). So don't mistake this for just another dumb action movie, because although it may look like one on the surface, this film has lot to say about war and the violence that comes with it. Furthermore, it's got some truly awesome special effects, which still look great and really spectacular by today's refined standards. Be sure to watch it on Blu-ray for the best possible viewing experience. Because as much of a visual treat as this movie is, it truly deserves to be seen in high-definition. An all-around amazing rollercoaster ride, that gets nothing less than my highest recommendation!
Starship Troopers Quotes
| | |
| --- | --- |
| Zander Barcalow: | One day, someone like me is gonna kill you and your whole fucking race! [spits on smart-bug] |
| Zander Barcalow: | One day, someone like me is gonna kill you and your whole fucking race! |
| | |
| --- | --- |
| Carl Jenkins: | It's afraid. It's afraid! |
| | |
| --- | --- |
| Jean Rasczak: | I expect the best and I give the best. Here's the beer. Here's the entertainment. Now have fun. That's an order! |
| | |
| --- | --- |
| Johnny Rico: | Let me tell you something. I'm from Buenos Aires, and I say 'Kill 'em all!' |
| Johnny Rico: | I'm from Buenos Aires, and I say kill 'em all! |