Starship Troopers 3: Marauder
(2008)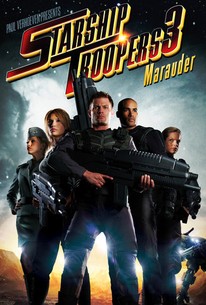 Starship Troopers 3: Marauder Photos
Movie Info
The bugs are back in this straight-to-DVD third entry in the Starship Troopers film series, this time with Johnny Rico (Casper Van Dien) back in the lead after being absent from the first follow up, Starship Troopers 2: Hero of the Federation. Also back is Edward Neumeier, the writer of the original, who takes on the directing reigns with this action-packed installment. Star Trek Enterprise's Jolene Blaylock co-stars in the Stage 6 Films production. ~ Jeremy Wheeler, Rovi
News & Interviews for Starship Troopers 3: Marauder
Critic Reviews for Starship Troopers 3: Marauder
Audience Reviews for Starship Troopers 3: Marauder
Third entry in the Starship Trooper franchise is an improvement over the second film, but it's still a mediocre sci-fi horror offering. Casper Van Dien returns in the role he played in the first film. Though the film still has a straight to DVD feel to it, and it does have some good moments, the film isn't good. The film is mildly amusing, but it lacks the substance that made the first Starship Troopers film such a blast. What we have here is a B-movie cheese fest. The film almost succeeds at being a good sequel to Vehoeven's classic. However due to script limitations, this film suffers. Like I previously stated, this film is an improvement over the second film, but it still has plenty of things that don't fit. This third entry has a good first half, but by the second half of the film, the film falls apart. Hints of a good story, are awash by the fact that the film has religious overtone, which really makes this promising sequel fall flat. The first half of the film is interesting, but the filmmakers don't know how to deliver a good second half. The second half has a lot of religious subtext that may turn you off the film. The second half of the film is what brings this film down. The acting is decent for this type of film, but is never anything great. Expect B movie level acting,. and you won't be disappointed. This film could have been a fine third entry in this series. The film is mediocre and it never succeeds at being a good film. Such a shame because the filmmakers had a good idea for this one.
½
Lame, corny, woodenly acted...do I need to say more? This straight-to-DVD movie is exactly the reason why I usually hate sequels. Because while the first film was sci-fi at its very best, this one wasn't even decent enough to earn a place in its shadow. So I guess it shouldn't come as a big surprise when I say that I wouldn't recommend this to anyone. That is, unless you happen to like poorly written sci-fi flicks with crappy special effects and B-grade actors. In fact, it's so bad that it even ended up on my worst movies of all-time list, next to favourite hate objects like "Battlefield Earth" and "Epic Movie".
Barely watchable, probably due to budget constraints and an attempt to embrace the "B-movie" genre that the first film mistakenly stepped into. It has solid plot ideas and carries the style of the first movie but where the first film succeeded was the intimate point of view of "Rico's adventure" and this film completely ignores that. Instead we get a series of events crudely strewn together, cheesy bullshit elite-marauder suits fighting hordes of aliens in a battle royale of sub-par special effects and an entire cast of characters you care little to nothing about.
Drake Tsui
Super Reviewer
Starship Troopers 3: Marauder Quotes
There are no approved quotes yet for this movie.