Starsky & Hutch
(2004)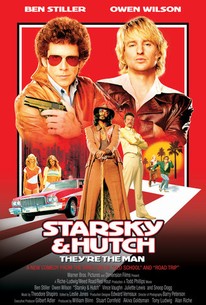 TOMATOMETER
AUDIENCE SCORE
Critic Consensus: It's uneven and occasionally somewhat aimless, but Starsky & Hutch benefits from Stiller and Wilson's chemistry and a surprisingly warm-hearted script.
Movie Info
Starring Ben Stiller and Owen Wilson in the title roles, this kitschy tongue-in cheek action comedy is based on the popular 1970s cop show of the same name. Ken "Hutch" Hutchinson (Wilson) and Dave Starsky (Stiller) are a tough pair of plain-clothes cops who drive a red and white Ford Torino and solve cases with the assistance of their informant, Huggy Bear (Snoop Dogg). While investigating their latest case, the duo realize that the culprit is none other than Reese Feldman (Vince Vaughn), the criminal involved in their first bust. Starsky & Hutch also features appearance by Juliette Lewis, Will Ferrell, and Matt Walsh, who, along with Snoop Dogg and Vaughn, all had roles in director Todd Phillips' last film, Old School.
News & Interviews for Starsky & Hutch
Critic Reviews for Starsky & Hutch
Audience Reviews for Starsky & Hutch
½
Always thought it was kinda funny that two undercover cops drive around in a souped up Gran Torino with a custom paint job. What's that noise? oh its the fuzz in their muscle car. The first parody of one of the two biggest TV shows with the coolest cars, the other being 'The Dukes of Hazzard'. Its nothing too outrageously original overall, a simple drug kingpin needs to be taken down and the cool hip duo are on the case. Its not really about the plot though, this film is just about the humour and having a good time. Like many Stiller films its a sly sneaky semi-serious spoof/parody comedy which is light-hearted, at times clever, but not over the top with silly childish jokes...not too much. A good decision because a serious adaptation of this would never have worked. The casting of Stiller and Wilson is actually inspired as they both fit the roles perfectly, Stiller actually looking very similar to Glaser and really capturing that 70's vibe. Both guys take to their characters like ducks to water and really make the whole film very likeable and thoroughly watchable. Gotta admit I had my doubts at first. Other casting includes frat pack members Ferrell and Vaughn, both of whom boost the film giving solid amusing performances. Loved Ferrell and his slightly creepy Big Earl character. So the cast is great and really holds the film together but I must give big kudos to the overall visuals in the film. Obviously set in the 70's but to be honest you could be fooled into thinking they'd gone back in time to shoot this. Very impressed with everything, all the period cars driving around, abundant street trash and grime (including those darn pesky cardboard boxes that turn up in all car chases), the costumes, hair styles and even those classic 70's TV show camera angles and zooms. They did tend to cram in almost every cliched 70's tune they could muster though, didn't need that, we get the idea about the era. Of course they do cater for the car porn fans out there. Plenty of Torino action naturally with slow motion action, close-ups, lots of skidding and tyre smoke etc...maybe too much? Gotta expect that I guess, it is a nice looking and sounding car and virtually a character in its own right. I think they went the right way with this, as I said, a serious attempt would have been laughable. No way this could of been a gritty hard action thriller, not with that car, that dialog and those threads! I'm also glad they didn't reduce the concept to childish smut (ahem). Its a by the books action comedy flick, but the fact its a neat little parody of a classic cop show which has actually been well thought out, makes this worth your time in my view.
Phil Hubbs
Super Reviewer
½
Starsky and Hutch is a diverting and inventive waste of time. No attempt was made to create a serious take (like Michael Mann's horrendous Miami Vice film version) on the iconic TV show, but instead to use it as fodder for frothy, pointless retro fun, jam packed with some of the 70's cheesiest pop classics, (Afternoon Delight, That's the Way I Like It and the David Soul classic 'Don't Give Up on us Baby, sung by the musically challenged Owen Wilson). Talented comedy director Todd Phillips shows his directing chops here pre-Hangover. Phillips knows how to direct a scene for laughs, he's one of the best out there right now. The star studded cast are all welcome visitors to the party, including Snoop Dogg as Huggy Bear, bad ass blacksploitation veteran Fred Williamson, the always welcome comedic anarchist Will Ferrell, and Vince Vaughan as the fu manchu-ed drug kingpin. Starsky's red stiped Gran Torino is used to comic effect here. Owen Wilson and Ben Stiller employ their generic personas very effectivelyl (i.e. laid back amoral California dude, uptight stupid Jewish dude who takes himself WAY too seriously). I watched this with my teenaged nephew, who loved it. It's a good suggestion for guys who are looking for something funny to watch with their male kids that's edgy enough to be cool, but ultimately harmless. Look out for original TV pair Paul Michael Glazer and David Soul at the end. On the depressing side, they look like old grandpas, but are still in good shape, and seem to be having fun.
Josh Morris
Super Reviewer
½
The story sometimes feels like its a bit flimsy and it certainly doesn't provide much action or the man-childedness of Hot Fuzz. But it benefits from chemistry between Stiller and Wilson and it did make me laugh.
Directors Cat
Super Reviewer
Starsky & Hutch Quotes
| | |
| --- | --- |
| Kitty: | dont stress just relax |
| Kitty: | Don't stress. Just relax. |
| Reese Feldman: | i dont understand man i dont understand you can lose keys ya know you can lose your wallet how...how do you lose a plane |
| Reese Feldman: | I don't understand man, I don't understand. You can lose keys, ya know, you can lose your wallet. How... how do you lose a plane? |
| Terrence Meyers: | reese come on what do you want me to do you got 3 out of 4 planes in thats still alot of coke |
| Terrence Meyers: | Reese, come on. What do you want me to do? You got three out of four planes in. That's still a lot of coke. |
| Reese Feldman: | now see that thats the winning attitude thats gonna take this enterprise straight to the top |
| Reese Feldman: | Now, see that? That's the kind of winning attitude that's gonna take this enterprise straight to the top. |