Starting Over
(1979)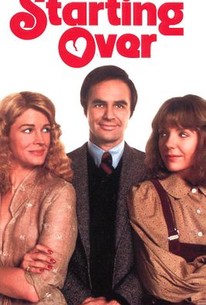 Movie Info
Set adrift by his wife Jessica's announced desire to leave him and pursue a career as a professional singer, Phil Potter (Burt Reynolds) is confused and devastated. He leaves their home and goes to spend some time with his relatives who are, not coincidentally, psychiatrists. He joins a support group consisting of other divorced men and finds consolation where he can. Jessica (Candice Bergen), meanwhile, is discovering that no matter how well-dressed and attractive a person is, in order to be a singer one actually has to be able to sing; unfortunately, singing is not one of her talents. Phil meets Marilyn Holmburg (Jill Clayburgh), a gentle and unassuming schoolteacher who refuses to commit herself to him. This adult comedy was well received by many critics and easily made back its costs at the box-office.
Critic Reviews for Starting Over
Audience Reviews for Starting Over
A dreary little "comedy" about divorce back when it is was still a bit of a taboo subject. Today it just plays as boring.
John Ballantine
Super Reviewer
½
Starting Over have a good entertaining and some good laughs that prove a good film. It's not the best movie by Brooks or Pakula, but it's a delightful and nice way to pass the time. Fresh.
Lucas Martins
Super Reviewer
A truly engaging comedy of modern manners. a love trangle, with two brilliant lead star performances by Burt Reynolds and the late Jill Clayburgh. Reynolds in one his finest performances as Phil Potter, a newly divorced man struggling to choose between a teacher Marilyn Holmberg, played so endearingly by Jill Clayburgh in a Oscar nominated performance, and his capricious, song writing ex-wife Jessica Potter, played by scene stealer Candice Bergen, who is marvelously funny, especially when she is singing to Burt with a voice that could wake the dead, her comedic talents are very evident here, there are other marvelous scenes like the church-sponsored divorced men's discussion group that Burt's a part of, it is hilarious with sharp witty dialogue. Terrific supporting performances from Charles Durning, Frances Sternhagen, Austin Pendleton, and Jay O. Sanders. A smart, warm romantic gem from the late 70s, smoothly directed by Alan Pakula, and wonderfully written by James L. Brooks. Highly Recommended.
Danny Rovira
Super Reviewer
Starting Over Quotes
There are no approved quotes yet for this movie.