State of Grace
(1990)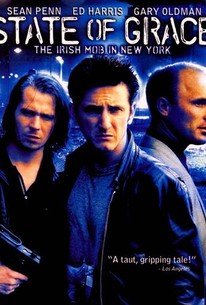 TOMATOMETER
AUDIENCE SCORE
Critic Consensus: State of Grace brings an impressive ensemble cast to bear on its epic gangster saga, elevating a largely familiar story with outstanding performances.
Movie Info
This directorial effort from Phil Joanou stars Sean Penn as an Irish-American undercover cop working the Hell's Kitchen beat. Penn is ostensibly on a sentimental journey to his old neighborhood. Actually he's been assigned to infiltrate a criminal gang led by Ed Harris, the brother of Sean's best friend Gary Oldman. Penn suffers the requisite honor vs. duty anguish when he renews his childhood romance with Harris' sister Robin Wright. State of Grace would have had more clout had it been more clear as to time and place: it's supposedly set in the 1990s, but the attitudes and behavior are pure 1970s.
News & Interviews for State of Grace
Critic Reviews for State of Grace
Audience Reviews for State of Grace
Stellar cast. I was captivated the whole film by the actors. Although I have liked other 'rat in the mob' movies better, like Donnie Brasco and Departed, but with Oldman, Reilly, and Harris I can't complain. I gotta say, the one thing keeping me from a higher rating is that I didn't care too much for the ending. As epic as the slow motion shootout was, it couldn't have felt more anti-climatic. Although, it was some nice squiby action.
Curtis Lilly
Super Reviewer
Irish Mob movies are not so common, but always seem to be great when they're made. This is one of the best, certainly topping The Depearted in my opinion. It deals with a similar scenario, but it's a lot more human and better looking. The cast is flawless, Sean Penn and Gary Oldman are just a few of the people who give some of their best performances. The story, for its time, was extremely original and done in such an effective way. It's a shame that no one holds this in the same regard as Goodfellas because it's honestly just as good. You care about these characters and believe they could exist in the real world. The Hell's Kitchen atmosphere is really effective, you can practically see the scummy darkness around you. Phil Joanou might not have many hits, but this is good enough to earn him some respect in my book.
Conner Rainwater
Super Reviewer
Magnificent look at the Irish mob in New York known as the Westies. Gary Oldman's character work as the ruthless Jackie Flannery is brilliant. He makes Jackie vulnerable and likable, showing he is one of the most unsung actors of our time. Sean Penn and Ed Harris turn in outstanding performances as well in this riveting film set primarily in New York City's "Hell's Kitchen". Even though Oldman's performance alone makes this film a "must see", the film is pretty much a perfect piece of cinema in every way. Very likely the best film of the last twenty years.
State of Grace Quotes
| | |
| --- | --- |
| Terry Noonan: | So we're like Robin Hood in this instance? |
| Jackie Flannery: | Yea and I'm Friar Fuck. |