State Property 2
(2005)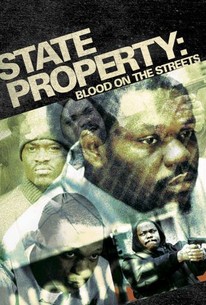 Movie Info
Hip-hop mogul Damon Dash wrote, directed, and stars in this hard-hitting examination of life in the criminal underground of a great city. Three different crime bosses are locked in a battle over the drug trade in Philadelphia. New York transplant Dame (Damon Dash) and his umbrella crew command a powerful network that controls the city's dope traffic, but he has two bitter rivals who both oversee competing gangs from behind bars -- Beans (Beanie Siegel), Philly-born leader of the once-dominant ABM Crime Syndicate, and Loco (Noreaga), a slick street hustler from Miami who has the bankroll to finance a powerful operation. As these three men and their underlings scramble for money and power, another player is quietly consolidating his forces and rising up against them. State Property 2: Philly Streets also features supporting performances from Mariah Carey, Ol' Dirty Bastard, Cam'ron, and a handful of other hip-hop and R&B stars.
Critic Reviews for State Property 2
Audience Reviews for State Property 2
Chosen 718
Super Reviewer
Absolute garbage. Racist, offensive, mysoginistic glorification of the drug life and murder. This movie is inexcusable and complete trash, with not a single redeeming quality. It is escencially a commercial for the image rap has been selling for the past 15 or so years: selling drugs is cool, killing people is cool, prison is cool, women are bitches, white people are stupid and hate black people, latinos are stupid and hate black people, asians are stupid and hate black people, and whenever confronted about your actions, just saying "I done what I hads to do ta gets paid" is more than enough. I was very much NOT surprised to find out it was produced in-house by the rap label Roc-A-Fella. It is little more than a rap song fantasy that was poorly shot, acted, directed and then released on DVD.
State Property 2 Quotes
| | |
| --- | --- |
| Baby Boy: | We in the whole for 90...D, you aint moving!!! |
| Baby Boy: | We in the whole for 90...D, you aint moving! |
| | |
| --- | --- |
| Beans: | A.B.M. Crew: All Bout Money |