The Statement
(2003)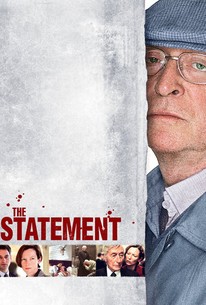 Movie Info
Set in modern day France, the story of Pierre Brossard who, as a young man, was a Nazi executioner under the Vichy regime. Brossard has never been brought to trial and has lived a peaceful and anonymous life, sheltered by right-wing elements within the Catholic Church. A new investigation into his crimes is launched and Brossard finds himself the target of hit men on the one hand--and police investigators on the other. A wily old fox, he keeps outwitting his pursuers while desperately trying to figure out who they are. Who will get to Brossard first? The investigators or the assassins?
Critic Reviews for The Statement
Audience Reviews for The Statement
I really liked the narrative behind this film, however I was slightly confused as to who I should be rooting for. Opening with (and following) Pierre Brossard we can see he is truly sorry for his actions. Is that just to calm his own nerves and make himself feel better? Maybe, but he still pained himself over what he has done which led me to believe we should be on his side and want him to escape. Certainly casting Michael Caine in this role does that. But at the end the filmmakers professed this film to the 7 Jews who were killed all those years ago, so why make their murderer so human and so compassionate? I also found it slightly slow at times when nothing to progress the narrative happened. This is a good film and whilst I won't be watching it for a long while it's something I'll definitely revisit. Thanks in part to Caine's brilliant performance!
Sophie Burgess
Super Reviewer
½
Cast: Michael Caine, Tilda Swinton, Charlotte Rampling, Alan Bates, Jeremy Northam, Ciarán Hinds, John Neville, Matt Craven, Edward Petherbridge Director: Norman Jewison Summary: The buried sins of the past almost always find a way to surface in the present, as Frenchman Pierre Brossard (Michael Caine) discovers in this drama directed by Norman Jewison. Pierre's quiet life in southern France is disrupted as he's haunted by his betrayals. During World War II, his Nazi sympathizing led to the deaths of 14 Jews. With a Nazi hunter (Tilda Swinton), the police and hired killers on his trail, it's his turn to be the hunted. My Thoughts: "The movie grabbed me right from the start with it's brilliant opening, but unfortunately it doesn't keep with that brilliance the entire film. In about thirty minutes in, it gets quite boring. Not one of Caine's best performances, but a movie he did carry on his own. It's basically him going from church to church in hiding. Not very interesting, but the story is. I wish they would have elaborated on it more then just showing Caine's character on the run. Also, what happened to this film being of french characters, they all sounded pretty british to me. Just not well made."
♥˩ƳИИ ƜѲѲƉƧ♥
Super Reviewer
Not one of michael caines best of films its a bit boring really just following him around with his life and it just was very exciting!
Film Crazy
Super Reviewer
The Statement Quotes
| | |
| --- | --- |
| Pierre Brossard: | Saint Christopher, they saw me. They knew. Can they point me out? Can anyone say,"That's Brossard. He sent us to our graves." |
| Pierre Brossard: | Saint Christopher, they saw me. They knew. Can they point me out? Can anyone say,'That's Brossard. He sent us to our graves.' |
| | |
| --- | --- |
| Anne Marie Livi: | Unless the whole truth is brought ou into the open, the dead will never rest easy. |
| Col. Roux: | And neither will you. |