Stay Cool
(2011)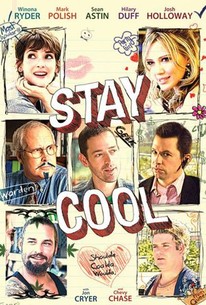 Movie Info
Henry McCarthy (Mark Polish), the 30-something author of the popular 80s-themed novel How Lionel Got Me Laid, returns to his suburban hometown of Sacramento to deliver the commencement speech at his former high school. Despite his success as an author Henry's return home has sparked all of the youthful dreams, desires and particularly disappointments he's never quite gotten over, specifically his unrequited affection for the girl who is now the local pharmacist: the elusive Scarlet Smith (Winona Ryder). Between run-ins with the outcast friends he left behind Big Girl (Sean Astin) and Wino (Josh Holloway), the school principal (Chevy Chase) and a seductive senior, Shasta O'Neil (Hilary Duff) who clearly has the hots for him, Henry is sent spinning through a time warp that incites all the old emotions and challenges of the world he grew up in. -- (C) Initiate Productions
Critic Reviews for Stay Cool
Audience Reviews for Stay Cool
After graduating high school and getting as far away from his small home town as possible, Henry McCarthy(Mark Polish, who also wrote the screenplay while his brother Michael directed) made it big by writing a best selling novel about his high school experiences. That entitles him to give one high school commencement speach. But somehow the airline is not so impressed when they lose his luggage. At least Henry has friends(Sean Astin & Josh Holloway) who are still there to give him a ride from the airport. And then Henry starts immediately obsessing over Scarlet(Winona Ryder) who barely knew he existed in high school and has problems of her own currently with her ex-husband Brad(Marc Blucas). "Stay Cool" is an uneven comedy with some great moments in amusingly detailing how high school never really ends. One can simply try to move on as best as one can. Just as much as Mark Polish's awkwardness in the lead works both for and against the movie, the movie's main strength comes from its supporting cast, namely Winona Ryder who definitely needs to be in more movies. Otherwise, there are a couple of odd references and product placement.
½
This film had it's moments. The characters were enjoyable and the juxtaposation of the audio-book and the situations happening on the screen helped bring a third dimension to the story. The film has it's glitches and problems (such as a 37 year old being so easily manipulated by an 18 year old.) but it makes up with the connection you have with the lead character. This is my first polish brothers film and it makes me want to look into their films more so Mike & Michael, you got a new fan. P.S.- Wynona Ryder, hottest actress EVER!!!
Joshua Wilburn
Super Reviewer
If you girls really like prom nights , graduations ,highschool ...etc check it out! As for you guys still can watch it because it is not annoying at all.Well ,I watched it because Josh Holloway was in the cast :) Although he always reminds me of Sawyer (if you have watched Lost you know what I mean!),this was like a sweet version of him!!!
Eliza Norton
Super Reviewer