Staying Alive
(1983)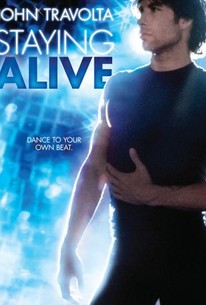 TOMATOMETER
AUDIENCE SCORE
Critic Consensus: This sequel to Saturday Night Fever is shockingly embarrassing and unnecessary, trading the original's dramatic depth for a series of uninspired dance sequences.
Movie Info
This sequel to Saturday Night Fever is set six years after Tony Manero (John Travolta) blew the competition away during a local disco contest. Now he is an aspiring Broadway dancer who finally gets a part in a show. Once there, he discovers that the glamour is but a facade for hours of hard work, and that it has a detrimental effect upon his social life. Sylvester Stallone penned the script and directed while his brother Frank Stallone wrote the soundtrack.
News & Interviews for Staying Alive
Critic Reviews for Staying Alive
Audience Reviews for Staying Alive
Boring, terrible and the begining of Travolta's decline.
Lucas Martins
Super Reviewer
I got bored with this movie so fast, it's not even funny. No one cares about what Tony's boring life is like after all the interesting stuff already happened.
I usually expect sequels to pale in comparison to the original. I have lowered expectations when watching such movies. For instance, one of my favorite movies of the 80s was Karate Kid. The Karate Kid part II, while not nearly as good, was a worthy sequel. Same thing with Rambo, First Blood Part 1 and II, Godfather part 1 and 2, etc... This sequel however was unwatchable. Quite frankly, there was no reason to ever make this movie. Tony Manero's life in the first one was not that interesting. What made the movie "cool" was it capitalized on the disco craze and had up and comer Vinnie Barbarino (ok John Travlota) as the lead. The success of the movie was more about the timing than anything else. So now its six years later and we have Tony Manero back on the big screen, dancing yet again. Problem is, dancing is no longer as cool as it was in the 70s. John Travolta is beginning a decade long downswing of his career, and quite frankly, nobody cares about the character Tony Manero. Nobody left the original Saturday Night Fever saying, "I wonder what happens to Tony Manero". Nobody cared, it was simply a movie about the music and dancing with a marginal plot squeezed in. The plot of Staying Alive is utterly ridiculous: Dance instructor trying to become a "dance pro", while managing dual love interests. All this culminates in a Broadway show that is unwatchable. It was simply a bad movie in the early 80s. Today, its almost comical to watch. I'll give Travlota credit though, many actors would have been exiled after such a catastrophe...he fought his way back to stardom. I have to believe when this comes on cable, he has the ability to laugh at himself.
Cassandra Maples
Super Reviewer
Staying Alive Quotes
| | |
| --- | --- |
| Laura: | Everybody uses everybody... don't they? |
| | |
| --- | --- |
| Jackie: | I can't always be second choice. |
| | |
| --- | --- |
| Tony Manero: | Tony Manero: Last time I came over, I almost got brain damaged. You guys party too hard; you ought to be a tag team. |
| Tony Manero: | Last time I came over, I almost got brain damaged. You guys party too hard; you ought to be a tag team. |
| | |
| --- | --- |
| Tony Manero: | Doorman: Are you expected? Tony Manero: To do what? |
| Doorman: | Are you expected? |
| Tony Manero: | To do what? |