Stealing Harvard
(2002)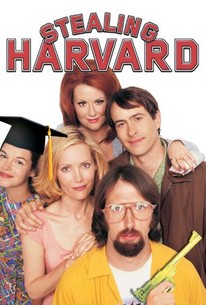 Movie Info
Two buddies find themselves doing some very wrong things for perfectly right reasons in this broad comedy. John (Jason Lee) is a nice guy who is responsible and hardworking; his best friend Duff (Tom Green), however, is his polar opposite, a layabout who is constantly getting in some sort of trouble. John is very much in love with his longtime girlfriend Elaine (Leslie Mann), and wants to marry her, but true to form, he has pledged not to make the walk down the aisle until he has saved up to 30,000 dollars so they'll be able to afford a down payment on the house they've always wanted. After years of saving, John has finally put 30 grand in the bank, and has set the date with Elaine. However, as John's big day approaches, he gets word from his sister Patty (Megan Mullally) that her daughter Noreen (Tammy Blanchard) has been accepted into Harvard University -- and years ago, John promised her if she got into the prestigious college, he'd pay the tuition. Making good on John's pledge to his niece would leave him with a mere 121 dollars in the bank, but he doesn't have the heart to say no to Noreen, or tell Elaine of his dilemma. John does tell Duff about his problem, who comes up with a typically hare-brained solution -- turning to a life of crime for the next two weeks in order to steal another 30,000 dollars. Stealing Harvard costars Dennis Farina and Chris Penn; Bruce McCulloch, a member of the comedy series The Kids in the Hall, served as director.
News & Interviews for Stealing Harvard
Critic Reviews for Stealing Harvard
Audience Reviews for Stealing Harvard
Tom Green and Jason Lee team up for the incredibly stupid goofball comedy Stealing Harvard. When John Plummer's niece gets into Harvard he's reminded of a promise that he made to her to pay for her college tuition, which leads him to seek the help of his friend Duff, who devices a series of schemes to get the money. Co-starring Leslie Mann, Dennis Farina, and Chris Penn, the film has some impressive comedic talent. But the script is awful, and the actors are unable to make the material work (despite their best efforts). A buddy comedy gone horribly awry, Stealing Harvard is a mass of stupidity.
Dann Michalski
Super Reviewer
½
Stealing Harvard is one of those comedies that could have been very funny and memorable and simply a good time all around. However due to a poor cast, a bad story and minimal jokes, this film fails at delivering what you want from a good comedy. Add to the mix, Tom Green, and you're bound to have a comedy that is sure to fail. Aside from a few funny moments, this is a failure of a comedy that really doesn't have anything good going for it. In the end, I didn't enjoy the film, and I thought it had wasted potential to actually being funny. If the cast was better, it might have been good, and if the plot was better as well, then maybe the film would have succeeded. In the end, there's nothing really interesting going on here, and most of the time the jokes fail to bring on genuine laughter. I think that's pretty bad because, this could have been a good little comedy, instead it falls flat, and the gags are strained, unfunny and overall pointless. This film is one of those comedies that fail because of poor writing, and directing. To me, it all seemed that the filmmakers didn't care about the end result of the film, and this is a film that is not worth your time, and should be avoided if you're looking for something funny. Richard Jenkins was funny in his part, but that wasn't enough to save this film from being a total dud. Ultimately this film is a train wreck, and is just unfunny and it lacks effective jokes to really make it stand out.
A crazy movie! Jason Lee was good as the poor husband who promised to pay for his niece's education, whilst his wacky gift-basket-making wife wants him to invest the same money in a new home. Jason Lee's character must turn to his half-insane old friend Duff (Tom Green - who wasn't too gross this time) - for ideas for finding cash quickly. They get involved in a liquor store robbery with a toy gun and other schemes. Jason Lee works for his father-in-law (Dennis Farina) at a health care supermarket, which also lead to some crazy jokes. Humour was a bit hit-or-miss - I laughed at the housecat in the cupboards, the gift-baskets, the housebreaking at the lonely widower's mansion and Tom Green being assaulted by the puppy. The story is very cartoonish; I didn't realize Bruce McCulloch (of Kids in the Hall fame) directed this movie; his lawyer character was funny in it. This comedy should've done better, but was probably not gross enough for the likes of the Van Wilder and American Pie-eating crowd.
Lafe Fredbjornson
Super Reviewer
Stealing Harvard Quotes
There are no approved quotes yet for this movie.