Stealing Home
(1988)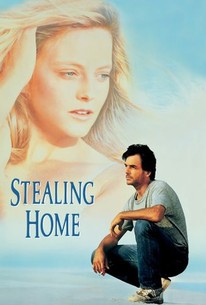 Movie Info
The storytelling device of the flashback gets an intense workout in this tragic coming-of-age drama. Mark Harmon stars as washed-up baseball player Billy Wyatt, who is shocked when he receives news that his childhood sweetheart and friend Katie Chandler (Jodie Foster) has committed suicide and left the disposal of her ashes to his judgment. Although Billy and Katie have not kept in touch through the years, he has always carried a torch for her, his first love. On his way home, Billy recalls his past associations with the free-spirited Katie: their first meeting, the time they made love, and conversations they had, mostly during summers at the New Jersey shore. Billy also remembers the adolescent mischief he got into with his best friend, Alan Appleby (played by Jonathan Silverman in the flashbacks, Harold Ramis in the present-day), like when each of them ended up sleeping with other's prom date. Billy finally decides to cast Katie's ashes to the wind in the place where they were happiest, by the seashore. Stealing Home was reportedly based on the real-life experiences of its writers, former Second City troupe members and WKRP in Cincinnati writers Steven Kampmann and Will Aldis.
Critic Reviews for Stealing Home
All Critics (10) | Top Critics (1) | Fresh (2) | Rotten (8) | DVD (2)
Stealing Home is a real squirmer, a movie so earnest and sincere and pathetic and dripping with pathos that it cries out to be satirized.

Stealing Home packs a lot of emotional wallops, but more often than not, the punches miss the mark.
Audience Reviews for Stealing Home
½
Enjoyable and sporadically disarming character study about a gifted athlete who renews his commitment to baseball after several years of aimless drifting. An ensemble cast does a fine job with this bittersweet tale.
Dean McKenna
Super Reviewer
Stealing Home Quotes
There are no approved quotes yet for this movie.