Steamboy
(2005)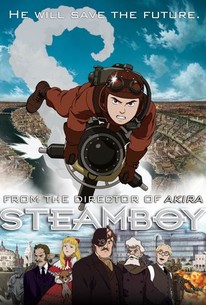 Movie Info
Katsuhiro Otomo, director of the groundbreaking anime feature Akira (1988), returns with this visually striking fusion of the past and the future. It's the Industrial Age in England, reimagined, and various and sundry inventors and scientists are arriving in Britain to hawk their products while capitalism rears its ugly head. A gadget-happy British lad named Ray (voice of Anna Paquin) receives a mysterious package from his grandfather Lloyd Steam (Patrick Stewart) -- a tiny ball that turns out to be an engine toting immense power. As it happens, several of these little balls run the O'Hara pavilion, a massive, mobile fortress. Ray later discovers that his dad and grandfather are located inside of the pavilion; his dad, Eddie, has become mesmerized by O'Hara and subject to their whims, while Lloyd suspects that O'Hara may want to use the balls for nefarious purposes, and tries to put a definitive end to those plans. Indeed, the O'Hara people soon take over the Great Exhibition and turn it into a veritable circus for weapons dealers. Meanwhile, Ray starts to develop feelings for a young girl named Scarlett O'Hara.
News & Interviews for Steamboy
Critic Reviews for Steamboy
Audience Reviews for Steamboy
Steamboy is wonderfully animated, a highly imaginative production. While it is true that the feature is a bit thin on plot and characters, this is an action film and the action does not disappoint.
Robert Brogan
Super Reviewer
Not at all what I was expecting, but enjoyable none the less. A bit long in my opinion, but lots of cool concepts and visuals.
This Japanese computer-generated anime is cool, starts out as a nice Jule Verne-style adventure, but the story is too complicated and talky to maintain momentum. Animation of the machines is smooth and graceful, but the characters are stiff and charmless.
Dean McKenna
Super Reviewer
Steamboy Quotes
There are no approved quotes yet for this movie.