Steel Trap
(2007)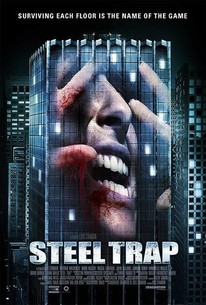 AUDIENCE SCORE
Critic Consensus: No consensus yet.
Movie Info
Seven adventurous partygoers find themselves trapped in a sadistic game of death after accepting an invitation to a mysterious party. It's New Year's Eve, and a group of revelers are living it up on the roof of an abandoned skyscraper when five of the partiers receive an intriguing text message. According to the sender, there's an exclusive VIP party happening on the twenty seventh floor, and they're all invited. Once on the floor, however, the five guests and two party crashers quickly realize that they have fallen into a trap. The only way off of this floor is to follow a series of morbid clues left by a murderous psychopath. But who conceived these deadly games, and why have they targeted this specific group? As the contestants begin to die a series of spectacularly staged deaths, each precious clue becomes a genuine matter of life and death. ~ Jason Buchanan, Rovi
Critic Reviews for Steel Trap
Audience Reviews for Steel Trap
Steel Trap is a terrible, poorly constructed film using previous ideas from other films. The plot is cliché, the characters are poorly developed and the directing is terrible. Steel Trap could have been a good horror film, but the fact is, is that it reminded me too much of Saw with a bad cast. Steel Trap is a clichéd ridden film that doesn't do anything new or original to entertain the viewer. I felt that the film missed the mark, and didn't offer anything good or entertaining. Steel Trap was a pointless film and by the time the credits role, you realize how much you wasted your time on this stupid, pointless film. Steel Trap is a badly conceived film that ultimately doesn't go anywhere. The films plot is mediocre, and to make that worse, the cast is terrible and it really sinks this film further. Steel Trap might've been a good film, but it's a dud, a total failure of a horror film. This is a film that scraps the bottom of the barrel. Director Luis Camara cannot craft a competent film. Steel Trap is a poor film with a mediocre story. I thought that Steel Trap was not worth watching, and that the cast was awful, and that Steel Trap was simply an uninspired horror film trying to cash in on the torture porn genre that Saw pioneered. It doesn't work, and Steel Trap is a bad film that is actually one of the worst horror films of the last few years. Stick with Saw; at least you'll a better crafted horror film with a decent cast and good gore effects, which is what Steel Trap lacks.
An ultra cheap wannabe Saw ripoff with schoolboy scripting, woeful acting (courtesy of both a Peter Krause and a Mary-Louise Parker sorta lookalike, with not one iota of either's ability) and illogical plotting. Laughably falling under the banner of Dimension Extreme, Steel Trap is totally awful, with not even effective gore effects to fall back on. PASS.
Daniel Parsons
Super Reviewer
½
At a new years eve party on top of a huge abandoned skyscraper 5 people get text messages inviteing them down to the 27th floor for what they believe to be a very exclusive VIP party once there the 5 guests and 2 partycrashers who tag along notice this isnt the average party as they are handed riddles and begin to get killed off one by one. Characters are very much unlikeable and you find yourself hopeing most get killed off fast decent amount of blood makes this worth a watch and the plot isnt that bad either this is another *Dimension Extreme* release
Steel Trap Quotes
There are no approved quotes yet for this movie.