Steelyard Blues
(1973)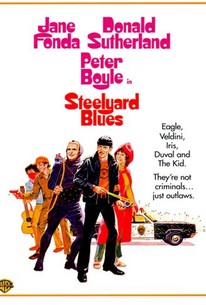 Movie Info
In this counter-culture caper comedy, directed by Alan Myerson (whose work with The Committee and Second City gives the film a quirky sketch comedy freshness), Donald Sutherland plays Veldini, a sad-eyed demolition-derby driver, serving time for larceny. He also possesses a millennial desire to wreck every car manufactured in the United States from 1940 to 1960. After being released from jail, Veldini hatches a scheme to restore an old U.S. World War II amphibian plane to escape conventional society and fly off to a new nonconformist world. Searching for spare parts to complete the restoration, Veldini realizes that a particular electrical circuit is available only at the local Navy base, and he decides to rob the base to steal the circuit. Involved in the caper with him is Iris (Jane Fonda in a burlesque of her performance in Klute) as a 100-dollar-a-night call girl who is sick of being humiliated; Veldini's kid brother (John Savage); and Eagle (Peter Boyle), a schizophrenic out-of-work circus performer. Standing in the way of Veldini's scheme is Frank Veldini (Howard Hesseman), his older brother and a politically ambitious district attorney.
Critic Reviews for Steelyard Blues
Audience Reviews for Steelyard Blues
½
A definite artifact of its time this terribly dated and pointless nonsense wastes many fine actors. A lot of the musical score is reminiscent of Smokey and the Bandit, hardly the spirit the movie seems to be going for although the film is so obtuse its hard to say what the actual point is. Jane's wig looks like a poodle climbed on her head and fell asleep, this could be her worst film.
Steelyard Blues Quotes
There are no approved quotes yet for this movie.