The Stepfather
(1987)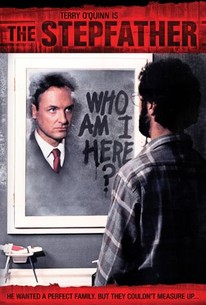 Movie Info
A man who at first seems to be the ideal husband proves to be a psychotic serial killer searching for the "perfect" family -- and willing to kill whenever he is disappointed. This skillful thriller hinges on the killer's newest family and their attempts to avoid becoming his newest victims.
News & Interviews for The Stepfather
Critic Reviews for The Stepfather
Audience Reviews for The Stepfather
Before he was marooned on a desolate island, Terry O'Quinn was a fiendishly vile serial killer who targeted widows and their suspicious children. The brilliance of 'The Stepfather' is the subversive nature of the screenplay insofar as the antagonists' motives are ultraconservative (his 'Father Knows Best' desire is a nuclear family with strong moral fiber who don't spout profanity and profess unflappable respect for their elders) and his victims could be construed as the immoral ones. Stephanie is a rebellious teenager who is undergoing therapy whereas Jerry is the distilled image of normalcy- a halcyon role model with a thriving real-estate career who socially invites his friends to neighborly cookouts due to his generosity. The race-against-the-clock element of Blakes' ex-brother-in-law narrowing down his location is a goosebump-inducing nail-biter. Soliloquizing to himself in the basement and violently smashing his wooden crafts like a frothing madman, the stupendous character actor O'Quinn can quickly transpose his fury for imperfections into a smiling, supportive bread-winner within seconds. When Blake switches the envelope photographs of himself for another suspect, his deviousness is incontrovertible. On the downside, the soundtrack in the slasher finale can be a tad strident but it is a minuscule sacrifice for an otherwise astute, irreverent rollercoaster that reverses the sanctity-of-family convention.
Cory Taylor
Super Reviewer
½
While it plays like a normal lower budget 80's thriller / horror flick the awesome Terry O'Quinn elevates the movie for me. He the perfect blend of loving husband and father mixed with psychopath. His ability to turn it off and on puts him above the rest of the cast. The movie is also darker than I remember it being which also sets it apart from other films like it of the decade.
Jason Spencer
Super Reviewer
½
This is a very realistic and scary horror movie, more of a horror drama, I'd say. Plus, I heard it was based on a true story, which makes sense because it's so realistic. It's a family's worst nightmare, if you love horror movies, you should see this.
The Stepfather Quotes
There are no approved quotes yet for this movie.